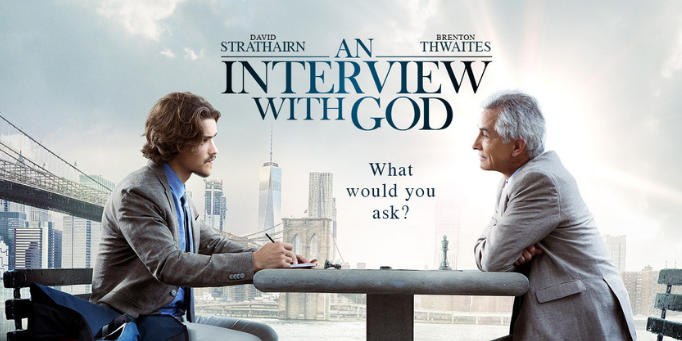 Movie Review: An Interview with God
'What would you ask God, if you had the chance?'...
Before I begin, I need to confess that I approached An Interview with God with a slightly jaded attitude towards 'Christian' films—I think I had maybe seen one too many violin-driven climaxes? Or, sermon from the pulpit (but we're really preaching at you!) scenes.
An Interview with God is not like this. There is a lot of theology, yes, but the thread of dramatic tension that vibrates beneath every scene and every relationship is palpable. I have seen this film described elsewhere as 'gripping', and it is—like a book, you simply have to know what's going to happen next.
Weird because, as the title indicates, it is mostly about an interview. Just two people, talking. One of them is Paul Asher (played by Australian actor Brenton Thwaites), a jaded journalist returned from covering the war in Afghanistan, and the other is God (played by David Strathairn) who, in a lovely moment as Paul asks him to say and spell his name, says, 'I'm God, G.O.D.', with a humorous quirk in his eye.
Paul has experienced some things which have him questioning his faith, and the engaging, nuanced performance Thwaites gives as his character struggles with this really drives the film. The man claiming to be God is also played delightfully by Strathairn, and though sometimes the questions Paul asks are pretty predictable, and the answers 'God' gives at times are slightly uninspired, the 'What-will-he-say?' factor is pretty compelling.
I mean, what would you ask God, if you had the chance?
To be honest, the hunger in my own heart to go deeper with God has me in a place where God already shares a lot with me, and so I would hope my questions wouldn't be the bland, all-of-mankind's-historical-misunderstanding-of-you-is-loaded-in-this stock question, but rather something a bit more like, 'Didn't you think it was funny what Anna did yesterday?' —Knowing the answer would be yes, because he likes funny things. And he really loves Anna.
So if the film left me a little dry in terms of inspiring me to go deeper, that was my only disappointment. It is a quality production, and a thoroughly enjoyable watch. I recommend it!
An Interview with God premiered on October 25th.
For more great films check out Movies Change People.
For more articles from Growing Faith, subscribe to our monthly e-newsletter.
To hear about the latest books and resources from Youthworks Media, subscribe here.
Related Posts: