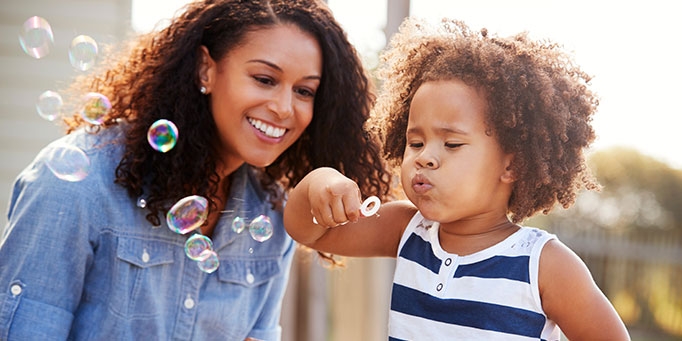 Want your kids to feel loved? Delight in them!
Doing these simple things can build the nurturing relationship kids need.
In the past few weeks, my toddler and I have been frequenting a local park to blow bubbles. Every time, it fills me with delight (as well as smiles and laughter) as I see her happily squealing and chasing after the bubbles.
There are other simple moments in life when we can't help delighting in our children: when they are first born and we're overcome with wonder and love; when we admire their little hands and feet, and when we hold those tiny hands in ours; when we hear the sound of their laughter and wish we could bottle it up and keep it forever!
While seemingly simple, these moments when we delight in our children are powerful: they are critical for our children's optimal development, and a testimony to God's love.
What does delight look like?
We delight in our children when we shower them with our positive attention, warmth and affection—bathing them in our love. It can involve:
physical affection: cuddles, kisses, a back rub, a hand on their shoulder or holding their hands
smiling with warm eye contact
words of affirmation like: 'I love you', 'You are my darling', 'You are precious', 'I am proud of you'
showing our interest, slowing down, being fully 'present' and connecting with our child in the moment
watching our child with delight when they are absorbed in play and exploration
joining with them in their enthusiasm, curiosity and wonder at the world
enjoying a game or extended conversation together.
I highly recommend Ross Campbell's classic book How to Really Love Your Child (David C Cook, 2015), which explains in more detail how doing simple things like these makes our children feel truly loved.
Why is delighting important?
Research over the decades shows that the most important ingredient for our children's optimal development is a nurturing relationship. Indeed, our positive attention, warm eye contact and loving touch are literally growing those brain connections within a young child. Children need our love as much as plants need light to grow.
Delighting in our children also fosters their feelings of security and self-worth and develops their self-image. We are communicating to them that they are worth our attention and love. As Christians, this is directly tied with their spiritual worth as children of God: that they are fearfully and wonderfully made (Psalm 139:14). As parents, delighting in our children is an act of worship as we praise the creator for how he has made and continues to grow our children.
For you created my inmost being; you knit me together in my mother's womb. I praise you because I am fearfully and wonderfully made; your works are wonderful, I know that full well. (Psalm 139:13-14)
Delight before discipline
Sometimes, as Christian parents, we may be afraid of spoiling our children with love. We are aware (perhaps even hyper-aware) of the inherently sinful nature of our children, and quick to discipline and teach good behaviour. Starting from toddlerhood, when a child's favourite word becomes 'no', we are eager to rein in what appears to be an emerging rebellious ego.
While discipline is an essential part of parenting, we should not be afraid of spoiling our children with love and affection, especially in the early years. Children need to first be confident of our love for them—to feel loved—before we teach and correct them.
Indeed, research shows it is through experiencing unconditional love and delight that our children grow up to be kind, compassionate and loving adults. Our children's first relationship is with us, and it is in this context that they first experience human love. What a privilege it is to represent the love of God to our children. So let us lavish our children with love and delight, as God unreservedly does with us.
What delight does not look like
While delighting in our children often comes naturally to parents, our delight can also manifest in unhelpful ways.
Delight doesn't compare
As a mother of a toddler, one area of comparison I often experience is milestones. Among parents, comparing when our children started crawling, walking, talking and other 'achievements' can rob us of delighting in our child's development at their own pace. I am sure that for older children, there are many, many other opportunities for comparison! Instead, let our delight draw us to focus on our own child—as a unique child of God—and marvel at how God is growing and shaping them.
Delight doesn't boast
Parents naturally feel proud of their offspring. However, this pride can often spill over into boasting. Our social media feeds are often filled with photos of our children, with the hashtag #blessed. While this is often a harmless exercise, we can also be in danger of looking for external validation from others—for ourselves, our identity as a parent and our children. Again, this draws our focus away from delighting in our own child. As my mother regularly reminds me, every child is precious in the eyes of their parents (and grandparents!) and God. Knowing this, I believe that usually, delight is best enjoyed privately between those that matter—between you and your child.
Delight isn't tied to achievement
While it's good to praise our children for their achievements, we need to make sure that our child feels loved for who they are, not what they do. Even as Christians, we may still sometimes focus on merit. For example, we may expect our children to do well at school, get a good job and have exemplary character and behaviour to gain our approval. However, where delight is concerned, we need to show unconditional love to our children regardless of their intelligence, appearance, abilities, personality—and even whether or not they are a follower of Jesus.
Delight and grace
Our children need to rest in our love and delight, not work for it. As Christian parents, we should know better than anyone the blessing of that kind of love. God loved us and saved us while we were still sinners; we do not need to earn his love or salvation (Ephesians 2:4). So let us help our children experience the kind of love God lavishes on us, as we express our pure delight in them.
But because of his great love for us, God, who is rich in mercy, made us alive with Christ even when we were dead in transgressions—it is by grace you have been saved. (Ephesians 2:4)
---
Dr Yixin Jiang Xu is a stay-at-home mother of a two-year-old girl and has a PhD in psychology. She facilitates a Facebook group Parenting babies and toddlers, where she provides parenting resources and webinars. She and her family attend St Paul's Anglican Church, Carlingford.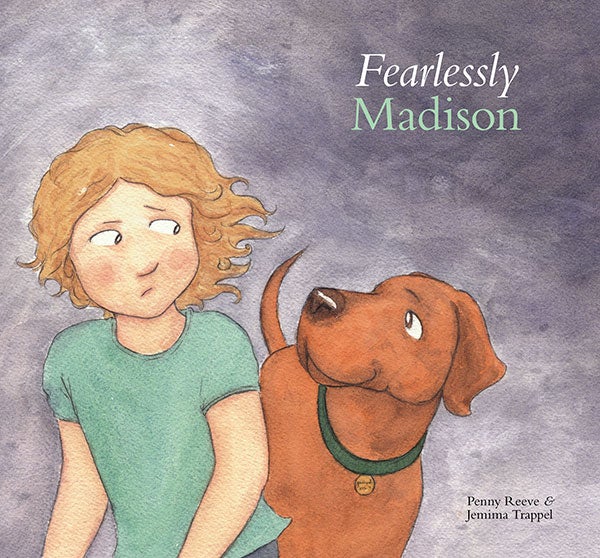 Fearlessly Madison
In this delightful new adventure, Madison learns that no matter what our circumstances might be, we need not be afraid; God is with us and he's working in all things for our good.
For more articles from Growing Faith, subscribe to our monthly e-newsletter.
To hear about the latest books and resources from Youthworks Media, subscribe here.
Related Posts: