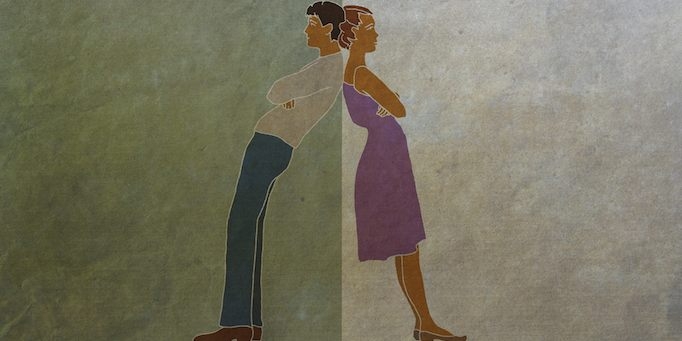 Should we argue in front of the kids?
Why it can be good for children to see their parents disagree.
It's pretty safe to assume that most newly married couples dream of living happily ever after. But according to our national statistics, it appears that living happily ever after is not the reality by any stretch of the imagination. Instead, 1 in 3 women have experienced physical domestic violence[1] and 1 in 3 marriages ends in divorce.[2] Too often, children are the innocent victims and suffer as a result of their parents' arguments.
Life's not a fairy tale, but despite the bleak statistics it is possible to have a loving and sustainable marriage and to demonstrate grace and reconciliation to each other and our children. I'm mindful of the example of my parents-in-law who celebrated their 54th wedding anniversary this year and have raised four wonderful children, and I'm thankful for my husband who told me 18 years ago that he was 'in for the long haul' and has proved to me over and over again that an argument won't end our marriage and that reconciliation is not as hard as I thought it was.
Learning how to argue respectfully is important, not just for the wellbeing of your marriage but also for the wellbeing of your children.
Don't avoid conflict
Many people avoid conflict for various reasons such as 'for the sake of the children', but suppressing emotions can lead to stress, anxiety and depression. Avoiding conflict can also lead to resentment, tension and feelings of isolation. It's important to be honest with each other and to show children how to resolve conflicts fairly and rationally.
Consider the children
Having said that, children can't process adult arguments maturely and often leap to conclusions like 'Mum and Dad are divorcing!' or feel burdened by responsibility. It can be difficult when we're consumed with our own concerns, but try to be mindful of when your children are listening and be prepared to allay any fears they have. Taking it to 'the office' (our bedroom) or going for a walk together has worked well for us.
Consider the causes and get some help
Try to work out what's causing the conflict, whether it's financial challenges, unmet expectations, different values, or something else. If you need help, see your GP or a counsellor, but be careful about asking for advice from your parents or friends without your spouse's knowledge as this can dishonour your spouse and complicate your relationships. Asking your children for advice on marital issues is a big no-no!
Communicate with care
Avoid accusatory phrases such as 'You always… You never…'and try to use 'I' statements instead, such as 'I feel…' Give your spouse your whole attention when you discuss difficult issues and reflect back what you hear them saying such as 'So you're saying that you feel angry when…' Blaming statements rarely inspire reconciliation, but respectful statements keep the channels of communication open.
Timing is everything
Arguing in public or late at night is a recipe for disaster. Delaying an argument until a more appropriate time can diffuse the intensity of an argument and give you time to cool down and get a clearer perspective on the situation. 'Don't let the sun go down while you are still angry.' (Ephesians 4:26) If you're still simmering with anger when you're in bed at night, don't underestimate the power of holding each other. You'll be surprised how easily the anger melts away.
Be prepared
Arguments often arise during times of significant stress or trauma, and just as you would prepare your house for an approaching storm or fire, it's wise to prepare your marriage for inevitable conflict. My husband and I read some terrific books by William F Harley and Gary Chapman while we were engaged and attended a marriage enrichment retreat early in our marriage. The advice we received early on helped prepare us for difficult times later on.
Recognise who's trying to divide you
It's helpful to remember that 'your struggle is not against flesh and blood, but against…the powers of this dark world and against the spiritual forces of evil in the heavenly realms.' (Ephesians 6:12) Remember that Satan is your enemy, not your spouse! Choose to stay united by praying with your spouse about issues that threaten to divide you.
Be guided by God
Be guided by God's wisdom to fight for your marriage, not against each other. Some great passages are found in Philippians 2:3-4; Romans 12:18; Ephesians 4:31-32; 2 Corinthians 5:18; James 3:17; James 1:5, and Colossians 3:13.
Pray for wisdom
It's easy to talk about our problems but better still to stop and listen to God. Prayer opens us up to God and helps us to see ourselves, our spouses and our situations in a different light. Prayer leads us to the God of peace and leads us to the source of reconciliation and hope.
Work together
When two separate people come under one roof, it's impossible not to have arguments, but choosing to face life's challenges as a united front will help you to be stronger as a result of being together. Show your children that you're a team by showing physical tenderness to each other, complimenting each other and caring for each other. Remember that tough times never last but 'together' couples do.
---
[1] http://www.ourwatch.org.au/Understanding-Violence/Facts-and-figures
[2] http://mccrindle.com.au/the-mccrindle-blog/marriages-in-australia
For more articles from Growing Faith, subscribe to our monthly e-newsletter.
To hear about the latest books and resources from Youthworks Media, subscribe here.
Related Posts: