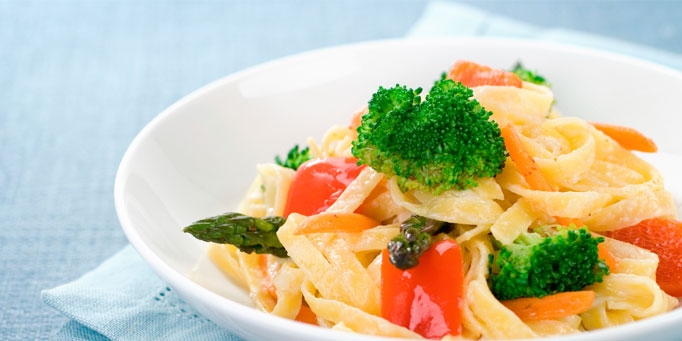 Raising children with food allergies
Libby Lovell shares the ups and downs of raising kids with different dietary needs.
Libby, tell us a bit about yourself and your family.
My name is Libby and I am 31 years old. I have been married for almost 9 years and we have 2 children and one on the way. We all love Jesus and trust in what he did for us on the cross.
My children both have food allergies. My son, 4, has peanut and tree nut allergies and anaphylaxis and my daughter, 2, has dairy and egg allergies and has only recently started eating wheat, since she had a wheat allergy prior to that.
How did you first discover your kids had food allergies?
My husband and I had no history of food allergies in our family and this was a completely foreign thing to us. When my son had his first anaphylactic reaction, we didn't even consider that it was due to an allergy – we just thought that the bread that the peanut butter was on must have made him gag and maybe he breathed something in and was raspy because of that. He should have been in an ambulance to hospital! We were a bit more clued in when our daughter came along and was covered in eczema as a baby. But we certainly didn't expect her to have so many allergies and to not be allergic to nuts like her brother.
Did you find it difficult to adjust to cooking for kids with food allergies?
We found it reasonably easy to eliminate nuts from our diets – you can easily avoid them in cooking. But when we had to eliminate wheat, dairy and egg – my whole menu had to basically be thrown out.
I found it really helpful to speak with a paediatric dietician who helped me ensure we were getting as many nutrients as possible. I made dinner the one meal where everyone tended to eat the same as my daughter (but we would do things like add cheese afterwards etc) so that I didn't have to cook separate meals. Trying to be healthy has meant a huge learning curve in what we can eat, as well as working out what my kids will happily eat.
After a few stressful meltdowns feeling like I didn't know what to cook, I learned the benefit of planning weekly menus and ensuring I have food for those 7 meals in the kitchen. That meant no on-the-spot thinking about meals which is just too hard when so much is eliminated. I had to learn all about the substitutes available (like flour, pasta, egg substitute) and also what 'normal' meals still worked. Thankfully things like meat and vegetables still work for us.
We rarely eat takeaway which means harder work for me, but the risk of allergen contamination is too high when you haven't cooked it yourself. So that keeps us more healthy too (and saves money). I've learned to keep offering the vegetables – just because they refuse it once doesn't mean they won't eat it. We also have a 'taste everything on your plate' rule in our house which helps expose my one fussy eater to new foods that they might just refuse on looks/newness alone.
What are your top tips for making tasty food for kids with allergies?
Kids with allergies are kids too – they like simple meals with simple flavours. They also don't mind eating the same or similar meals each week.That will save your sanity rather than thinking up new things all the time.
Think about what 'normal' meals will work – my kids love my simple roast chicken with vegies.
Cook from scratch – you will find you need to most of the time anyway, but this helps you ensure it is healthy and you can reduce salt, sugar, fat and additives.
Remember and reuse recipes that work. That's partly why I started my blog, so that I would remember the things I cooked that worked and be able to reuse them.
Plan your meals to ensure that you get a range of healthy food and aren't missing any essential nutrients (like calcium or iron).
Use substitutes (like gluten free pasta) to allow you to eat what you love and share it with your kids. To save money (but not washing up!) I will cook up two saucepans of pasta – normal and gluten free. Just make sure you avoid contamination by using different kitchen utensils.
What struggles have you gone through, and how have the food allergies made life more complicated and difficult?
We have had a few struggles – the main one was me feeling so under pressure to provide nutritional food for my children, especially when we found out my daughter had iron and calcium deficiencies. We have been brought to our knees in thankfulness that our son survived his first two anaphylactic reactions despite our ignorance and thankful for the education and medication that will keep him alive in the future.
We have found it difficult at church at morning tea time. We have needed to approach our church leaders to discuss the fact that our son has a life-threatening allergy and ask them to change current morning tea practices in a big way. Thankfully the churches we have been at in the last few years have made "No Nut" rules for us, but the stress of always having to check the tables is there, because so many people are involved in rosters and food with nuts still gets brought in and even put on the kids table.
Our daughter's allergies aren't life-threatening, but are very difficult to cater for, so we haven't ever asked changes to be made for her. We always bring our daughter's morning tea for her and that means remembering all the time. Thankfully we have been blessed with reasonably content and self-controlled children who seem to already understand that they will miss out on some things. We try to provide suitable substitutes and are very thankful for 'Itsy Bitsy Bears' (allergen free mini teddy biscuits!)
Always having to bring our own food, especially for my daughter, has made things more stressful. It's hard enough getting out the door with young children, so adding in preparing extra food and ensuring the medication is in the bag adds extra stress.
Have you had any negative reactions to letting people know your kids have food allergies?
A lot of people don't know a lot about food allergies. Unfortunately, their lack of knowledge often translates into disbelief of the allergies, which can be tough. Often it comes across by them suggesting (by word or action) that the allergies aren't serious and thinking that we are silly for the precautions we take. I try to remind them that just because food allergies weren't around very much when we were kids doesn't mean things are the same now. It would be great if people found out more about food allergies, and were aware of the serious medical issues involved.
Find out more about food allergies, and discover some great recipes at Libby's blog: http://cookingforfoodallergykids.blogspot.com/
For more articles from Growing Faith, subscribe to our monthly e-newsletter.
To hear about the latest books and resources from Youthworks Media, subscribe here.
Related Posts: