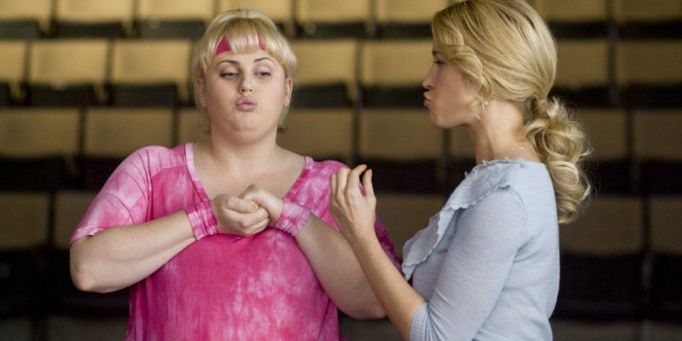 Pitch Perfect: Movie Review
Australia's Rebel Wilson brings the laughs in this surprisingly enjoyable teen film.
I'll admit it, I had a hard time facing the advance screening of this film. I'm a fairly hardened reviewer but I've always struggled with anything that remotely resembles High School Musical. Thankfully Pitch Perfect significantly improved on my expectations, as well as those of the rent-a-crowd I brought along…
It's often hard to get outside of your own demographic when it comes to evaluating films so, given that Pitch Perfect is pitched at women, I thought it best to invite along a few friends to evaluate it for me. So when I arrived at the cinema, it was in the company of four women aged in their 20s to 40s: Nicolie, Zoe, Natalie and Caro. Strong-minded, intelligent Australians all, I felt sure they'd be able to give me a fair perspective on what the target market might be thinking.
The plot of Pitch Perfect isn't that hard to grasp. Anna Kendrick plays Beca, a young woman who would like to pass up college for the music scene in Los Angeles, but is attending Barden University to please her father. Part of that includes joining a student society, in this case the local all-girl singing club called the Barden Belles. The Belles have seen better days and are scraping the bottom of the barrel to try and find enough girls to compete in the 'International Championship of Collegiate A Cappella'. Beca is more interested in mixing music than singing but she begins to make friends despite herself. The Belles manage to scrape through regionals and are on their way to the finals where victory will depend on their ability to value the gifts of every member.
A strong Aussie performance
Performance-based teen dramas generally consist of extravagant dance numbers loosely connected with a few lines of drivel. There's a big competition to win, a bad team to beat, and a boy and girl who simply must end up together. Pitch Perfect has all of that, but also includes a few elements that make it worth the price of admission. Firstly, there's the comic talent of Australian Rebel Wilson. Known for her appearances in Fat Pizza and The Bachelorette, Rebel gets all the best jokes. "It wouldn't have been much of film without her," Natalie concluded to everyone's agreement. Much of her humour was actually improvised, leaving cast members in stitches as she produced 20-minute diatribes on whatever the scene required. Part of her success included steering the film away from blue humour while looking for the laughs. There are a few suggestive lines and the word 'bitch' gets used in its colloquial sense, but that's pretty tame for what is essentially an American college film.
What impressed my personal review team, though, was the way the film avoided some really common traps for female characters. Caro noticed that, "The 'perfect look' was dispensed with pretty early on in the film. It was more about being vulnerable." The large-framed Rebel Wilson actually ended up the soul of the group. And instead of trumpeting Beca's talent, the heroine had to learn to take a back seat. "The message seemed to be you accomplish more as a team than an individual", Zoe observed, "which is not a bad thing for girls to hear". The 'be all you can be' mantra was still there to see with Nicolie pointing out that, "sticking to college" was apparently something everyone should aspire to. But beyond the good laughs and great arrangements, the group was happy to see that the strongest theme was striving for a community rather than serving yourself. As Caro summed it up, "You can be amazing, but you get there as a collective".
So all up, Pitch Perfect is far less pain than you might expect, especially for the average guy (I'm pretty certain I laughed louder than the girls, but then they are a bit more self-controlled). And, though the film does gather together a fair number of the usual clichés, it's good to see a story suggesting that getting everything you want might still leave you a long way from happy. It's obviously still a long way from the sacrificial community that Jesus invites us to join too, but I can think of worse messages a young woman could hear outside of church.
Watching Pitch Perfect with your kids
Pitch Perfect discusses sex in a teenage way, without dwelling on any of the details, and some of the edgier slang kids will hear at school without actually becoming profane. If you have a teen daughter that has to see every film that sings, then you could always strike up a conversation with one of the following:
What made it clear that Pitch Perfect wasn't all about 'one size fits all'?
Who was the real villain in the film – what did Bumper do that was so bad?
How do we know Beca was really sorry about bailing on the Belles?
For more articles from Growing Faith, subscribe to our monthly e-newsletter.
To hear about the latest books and resources from Youthworks Media, subscribe here.
Related Posts: