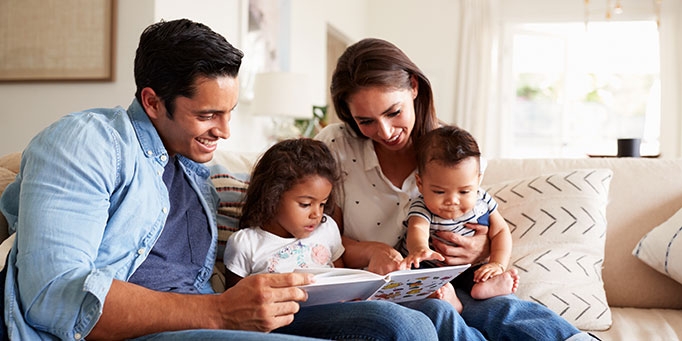 Passing on what we have received
An encouraging story from Emily.
*This article is part of our 'Tell us your story' series. We'd love to hear your story too! Head to this page to find out more.*
How did you become a Christian?
It has been almost 30 years since I came to know Jesus and there hasn't been a day that I have regretted it. Being raised in a Christian home and attending a Christian school for the majority of my schooling meant that I was immersed in the Christian faith.
I came to know Jesus when he showed me my status as a sinner before a holy God. I had been unkind to my older sister and I felt this deep sense of guilt—like I was covered in dense tar and unable to free myself from its suffocating grip. I went into my mother's room with tears streaming down my young face and talked to her about my feelings of guilt. Mum reminded me of the fact I was a sinner in need of a Saviour and that this Saviour's name was Jesus. That afternoon, we prayed together as we sat on her bed and I confessed my sin, asking God to forgive my sins and save me. That moment at the tender age of around seven, I was washed by the blood of Jesus and became a child of God.
What was the impact of your Christian schooling?
Through the investment of my parents, my school, Sunday School and youth group, I was discipled and built up in my faith. My teacher, for the main part of my primary schooling years, had recently completed a theology degree in the US and so taught us theology from the classroom mat. Her faith was real and lit up her face when she talked of it. It was also practical and she used the opportunities presented to work with us on what living the Christian life meant. From these early years, I saw the great need for people to build into the lives of others, the truth of the gospel and an understanding of how the Bible can be read, mined for truth and be a guide for life—teaching, training, correcting and encouraging us. One of the key verses that this beautiful teacher impressed on our hearts was:
'He has shown you, O mortal, what is good. And what does the Lord require of you? To act justly and to love mercy and to walk humbly with your God.' (Micah 6:8)
How has your faith developed since becoming a mum?
As I started having children, these early beginnings of my faith and the teaching I received on the mat of my Christian school classroom became signposts to help me share my faith with them. In the season of littlies, when the days are long, I was able to pop on a podcast from The Gospel Coalition while I cleaned or washed or read a few pages in a Christian book while I fed which then helped me see what an opportunity parenting is to share, train and teach the things of God to the next generation.
In one of these podcasts, I heard Mary Mohler say, 'It is our job as parents to teach our children who God is and of his word; it is the Holy Spirit's job to take this from their heads to their hearts'. This provided such a clear guide for me—I wasn't responsible for my child's salvation, but I was responsible for teaching them who God is, and for pointing—and repointing—to our shared need for the saving grace he offers.
What are some ways you seek to pass your faith on to your children?
From when our children were newborns, we started reading stories of God to them. We taught them they were created in the image of God through books like God Knows All About Me (Claire Page, Authentic Media, 2014). We told them the amazing stories of ordinary people who were used by an extraordinary God through The Jesus Storybook Bible (Sally Lloyd-Jones, Zondervan, 2007) or the wonderful 'Tales that Tell the Truth' series from The Good Book Company for Children. We also taught our children how to pray by praying with them, for them and over them. My husband Dave and I also love music, so we regularly have impromptu worship sessions in the car on the way to school or gathered around the piano at night after dinner.
Another wonderful thing my husband brought into our family a few years ago was 'Family Time'. This is a time straight after dinner when my husband reads a section from the Bible to us, we each share one thing that stood out to us and we pray together. We finish up this time doing something fun together as a family—this could be playing a boardgame, doing karaoke to YouTube clips, watching a show together like Lego Masters or playing charades using an app on our phones. Each of us gets a night for choosing the activity we would like to do as part of 'Family Time' and so we share things we love with each other.
While I initially may have felt a little disgruntled about this time, as we had finally finished dinner and I was 'clocking off' for the evening, God challenged me to commit to it for a time and see how it went. It is now one of the joys of my life and something we look forward to as a family at the end of our day.
What do you hope and pray for your children?
As I think about our family and faith, I feel the key challenge for me is to be authentic. I want my children to see me as a sinner saved by grace who is the same behind closed doors as I am out in public or at church. I also want them to see Jesus can be trusted, he cares about the details of our lives and is a sure, solid foundation on which to build one's life. It is my hope and prayer that they will come to their own saving faith in Jesus, trusting him as the author and perfector of their faith. I also pray that they will look back on their home life as a place where they were taught God's word and trained in how to live for Jesus. I am grateful for the Christian school that they now attend and the Sunday school teachers they have, who are also modelling a Christian world view to them and teaching them the story of God through his word.
*This article is part of our 'Tell us your story' series. We'd love to hear your story too! Head to this page to find out more.*
---
Emily Cobb is wife to David and mother to three children. She loves to write and reflect on who God is at her blog (emilykcobb.com.au) and is passionate about biblical literacy among women. Emily is the author of Made for More (Matthias Media).
For more articles from Growing Faith, subscribe to our monthly e-newsletter.
To hear about the latest books and resources from Youthworks Media, subscribe here.
Related Posts: