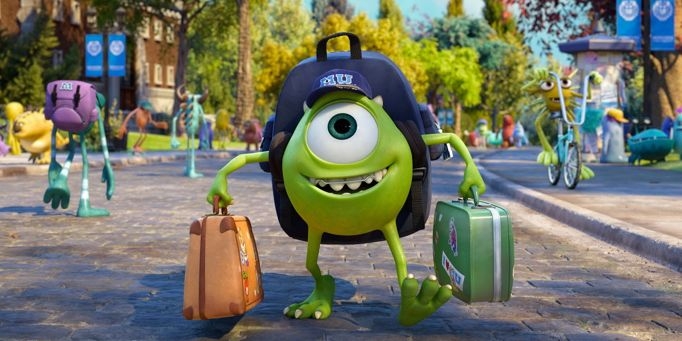 Monsters University: Movie Review
Mike and Sulley are back, teaching us how friendships are formed, and how to take responsibility for our actions.
Two heroic monsters return to the big screen twelve years after their first outing.
In the original Pixar production, Monsters Inc. (2001) kids were introduced to James P. 'Sulley' Sullivan (John Goodman) and Mike Wazowski (Billy Crystal), two children's nightmares responsible for scaring up the screams that power the city of Monstropolis. Throughout their adventure they're firm friends, fighting entrenched corruption and trying to ensure the little girl 'Boo' gets back to her home. Monsters University takes us on a trip ten years into the past where the relationship began.
Sulley and Mike both attend Monsters U, the premier learning institution for creatures who want careers as scarers. But that's where their shared interests end. Crystal's one-eyed green ball is a fastidious student, determined to get the best grade. Goodman's furry behemoth is more of a jock, happy to get by on his surname – his father was a famous scarer – and more interested in distancing himself from the nerds, who include Wazowski. On the steps of a fraternity house he bids Mike a disinterested goodbye:
Sulley: This is a party for scare students.
Mike: I am a scare student.
Sulley: I mean scare students who have a chance.
Monsters University is written and directed by Dan Scanlon, a contributing writer on Cars and a key creative on Brave. It's the first prequel to a Pixar film and it sets out to reveal the foundations for a lasting friendship, Monster style. An argument gone wrong leads to both Mike and Sully being booted out of scare school. Their only chance is to enter a team event that might win them back their places. Initially their competitiveness drags their results down, but growing respect leads to confirmed commitment and a better return on their efforts. However, the basis of their friendship doesn't emerge until Mike finds himself trapped in the human world. Sully disobeys a direct order to try and rescue his oddball friend, and finds himself sharing something of his own mind:
Sulley: I act scary, but most of the time I'm just terrified.
Mike: Why didn't you tell me that before?
Sulley: Because we weren't friends before.
And so the foundations for their friendship are laid: service, sacrifice and the sort of trust that allows for vulnerable honesty. Monsters University might be something of a formula film, but you couldn't ask for a better definition for kids. But the best lesson is in the absolute tail of the film.
A lesson in consequences
*** WARNING – SPOILERS AHEAD! ***
Mike and Sulley end up breaking a book's worth of rules by the end of the feature. However, the climactic scene sees them achieve something no scarer at Monsters University has ever managed to do. Hollywood would normally leap in at this point and allow their gains to outweigh their infractions, like most of the Harry Potter films. Mike and Sulley are congratulated – but they still get expelled. If they're going to realise their dreams of working for Monsters Inc. it will have to be by another way.
Now that's a lesson for kids that's hard to find, mainly because it's fallen out of favour with adults. We like to think that our great achievements will somehow wipe away our many infractions. After her death, many people loudly proclaimed that Lady Diana had to be in Heaven despite her fractious life and serial adultery, because of her work with charities and children. But God's judgment will both credit the good things we've done while still holding us to account for those we haven't. It's a childishly simple but valuable lesson: you can't pretend there won't be consequences for your actions.
Watching Monsters University with your kids
There's nothing terribly scary in this film about scaring; Disney knows their audience well. But there's lots to talk about:
How do you know Mike and Sulley were friends?
Why did they get expelled from university?
Do good things cancel out the bad things we do?
For more articles from Growing Faith, subscribe to our monthly e-newsletter.
To hear about the latest books and resources from Youthworks Media, subscribe here.
Related Posts: