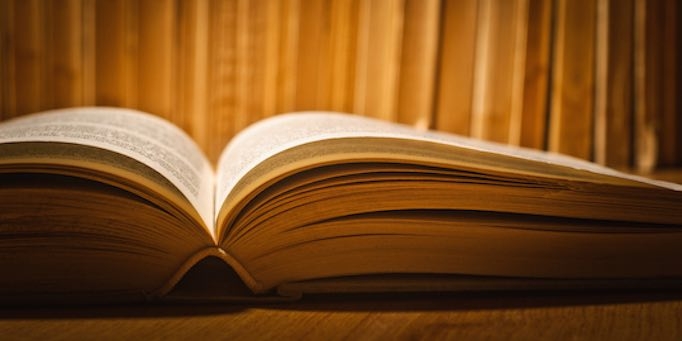 How I rediscovered a passion for Bible reading
Zac Veron shares how a small idea reignited a passion for spending time in God's Word.
"Read your Bible" is a constant mantra coming from the pulpits of evangelical churches. Bible reading is important. God's Word is our supreme authority in life. Yet most church members only read the Bible during a Sunday church service and perhaps during a mid-week Bible study (if they happen to belong to one). Why is it that so few church attenders read their Bible regularly and what can be done about it?
I have been reading the Bible for the best part of 45 years. I know what it says. I have read all the stories many, many times. Recently I have felt that my reading of the Bible was not as rewarding and rich an experience as I remember it used to be. Around about the same time a friend of mine shared with me how rich and rewarding his own Bible reading was.
What was the difference? He was reflecting on what he was reading more than I was. He was spending more time digesting the riches of the text than I was.
What was the essential difference? He was underlining the text as he read it and then journaling what the Lord was telling him through the text.
He first read the text, highlighted a key verse, then wrote down significant points which explored that verse in the context of the chapter and book. Then he dwelt on what application for his life sprung from the text, wrote those application points down, and then prayed over what God has laid on his heart through the journaling process.
How journaling changed my Bible time for good
Journaling! I dismissed the idea outright when I first heard about it as a method to enhance Bible reading. I actually also dismissed the concept the second and third times I heard about it. Now that I've tried it, I've become a passionate advocate. I have found that once again I'm feeling that I'm being transformed by the renewing of my mind (Rom 12:2), and as I reflect on what God is saying in his Word in a refreshed way, the Lord is giving me renewed insight (2 Tim 2:7). Journaling has helped me not just get or retain Bible knowledge, the Lord has used it through his Spirit in the continuing process of the transformation of my life.
Journaling is not for everyone, but it might be just what you need right now. What can you do to assist yourself to reflect upon what you read in the Bible? What can you encourage others to do in your family and ministry so they too can dwell on the Scriptures and have their own lives enriched?
Dwelling and reflecting on God's Word, not just reading it and moving on, is a key to both a healthy family and healthy ministry. "Let the word of Christ dwell in you richly as you teach and admonish one another with all wisdom, and as you sing psalms, hymns and spiritual songs with gratitude in your hearts to God." Colossians 3:16
Do you belong to a Bible study group? Is the method you use to look at the Scriptures tired and repetitive? Does discussing 7-8 questions that someone else has determined you need to answer, in order to understand the text, no longer do much for you? If so, try journaling! The members of the home Bible study group I lead journal during the week, and then come together on Wednesday nights to share one of their journal entries with the rest of the group. This method has worked a treat for us! Every group member shares something every week. Everyone speaks and encourages others in the group. Discussion and group prayer have been enhanced. Lives are being changed. The person who has been a Christian for one year is as engaged in the process as those who have been Christians for decades. We allow the text to raise its own questions not just what the leader thinks the questions should be. Everyone comes prepared to engage and be engaged with the Bible and with each other!
How we learn
Adult education principles state that people learn best when:
1. They have some say in the control of the curriculum and can determine the topics that interest them and learning methods that suit their learning styles.
2. They are actively engaged in learning activities that assist them in the construction of their knowledge rather than passively listening and receiving information.
3. They can collaborate to share experiences and construct their knowledge with each other, rather than being treated as novices to be led by an expert, or 'empty vessels' to be 'filled up' with information.
4. They can apply and try out their knowledge in an authentic context or learning activity and receive feedback on their performance or understanding.
How this applies to Bible reading
In our home bible study group, which focuses on each individual's journaling during the past week, my group members and I have observed that these principles have been effectively applied because:
1. We have a choice over which Bible passages to read within the framework of the reading plan, how much or how little to write, how to fit it into our available time. We are in control and responsible for our
learning.
2. By filling out the journal at home in our own time we are actively thinking, analysing, and applying our learning throughout the week. This is a much more effective method for understanding and remembering what we read than just reading and praying without doing any writing. The journaling process leads to deeper understanding of the passage and 'construction of knowledge'.
3. When we meet we are not just listening to one expert who has done all the hard work for us during the week or answering someone else's questions that may be meaningless to us. We are sharing our learning with each other, asking and answering our own questions and discussing in order to explain and learn from each other's contributions. This provides more reinforcement of the learning we've done in our own quiet times alone with God and lets each one of us lead and teach and set the agenda.
4. We can share in our group how we will apply and use what we have taken from God's word as important to our lives, ask questions to clarify our thinking, and receive feedback and reinforcement from each other. The passages become a personal challenge and require a personal response rather than remaining separate to our daily lives.
Do you want to discuss the Bible with your children? Try journaling. Each member of a family can be reading the same text (adults read the same passage as their children plus more, and the teenagers read a little bit more than the children but not as much as their parents), and then discuss it together over breakfast or dinner.
For more articles from Growing Faith, subscribe to our monthly e-newsletter.
To hear about the latest books and resources from Youthworks Media, subscribe here.
Related Posts: