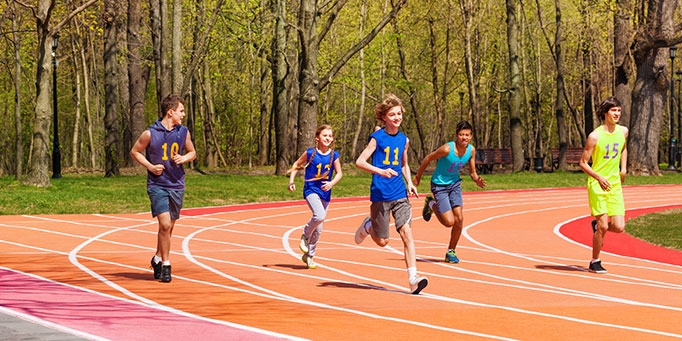 How sport can teach kids the gospel
Youthworks' CEO Craig Roberts explains.
Sport is not unknown in the Bible and just might be a helpful bridge between a young person and the life-giving truths of the gospel. In the Old Testament, Jacob wrestled with God (Genesis 32) and Jonathan used his archery skills to communicate a secret message to his best friend, David (1 Samuel 20). God himself used running races (even a foot race against a horse!) to drive home his message to Jeremiah about the consequences of sin (Jeremiah 12:5).
In the New Testament, the Bible writers use sport to illustrate some key aspects of the gospel. Here are some ideas for starting a gospel conversation with your kids.
Winning
No-one remembers who came second, or who was leading at half-time. That's because the objective of a sporting contest is to win. The Apostle Paul uses the example of a first century athlete to draw attention to the purpose and goal of life: in the words of the Westminster Catechism, 'to glorify God and enjoy him forever'.
'Do you not know that in a race all the runners run, but only one gets the prize? Run in such a way as to get the prize. Everyone who competes in the games goes into strict training. They do it to get a crown that will not last, but we do it to get a crown that will last forever. Therefore I do not run like someone running aimlessly; I do not fight like a boxer beating the air. No, I strike a blow to my body and make it my slave so that after I have preached to others, I myself will not be disqualified for the prize.' (1 Corinthians 9:24–25)
In first century Greco-Roman games, the victor would get a wreath of leaves to wear on their head like a crown. The resurrection of Jesus is our guarantee that the person with the best marks, the most money, friends or social media likes will only get a 'crown' like that, which will soon go brown and fall off. But the person who lives life according to Jesus' rules will get a crown that will last forever because we will be with Jesus forever.
Jesus' rules
In 2001, the Australian women's 4x200m freestyle team won the World Championship final in a record time, but were later disqualified because one of them, urged on by a cameraman, jumped into the pool before all competitors had finished the race.
As the disqualification was unfolding, one commentator said 'most fair-minded people would disagree [with the disqualification]', but when video footage showed one of the Aussies jumping back into the pool in celebration before the last-placed swimmer had finished, all the co-commentator could say in the end was 'Oh ... '
The rules in sport are sometimes hard to fathom. But Jesus is crystal clear on the 'rules' for eternal life: 'I am the way and the truth and the life. No one comes to the Father except through me' (John 14:6). We shouldn't 'arc up at the ref' because we don't like the decision, instead we should rejoice that the way to eternal life is so clear and simple. And this is where sport lets us down.
In sport, you get rewarded for performance—for being the fastest, the strongest, the most graceful, the whatever. If your performance is good enough, you get the chocolates. But the way to a relationship with Jesus and to eternal life has absolutely nothing to do with your performance. It all comes down to whether you've put your trust in Jesus as your King and Saviour.
Look at the thief on the cross alongside Jesus. He'd broken every rule in the book. He didn't get sin-binned, he got sent off—forever. With no chance to 'perform' and so redeem himself, all he could do was look to Jesus in faith and ask to be 'remembered'. And Jesus, the King of God's kingdom, guaranteed him a relationship: 'I tell you the truth, today you will be with me in paradise' (Luke 23:43). Sport is all about conditional, performance-based love (if you're good enough and if you train hard we'll love you and put you on the starting team) but the Christian life is founded on unconditional, grace-based love (1 John 4:10).
The greatest victory
Winning a game is great. But there's a greater victory to be had. Jesus perfectly kept every one of God's rules and was qualified to die in our place for our sins, so he didn't have to get sent off forever. In Peter's words, 'Christ also suffered once for sins, the righteous for the unrighteous, to bring you to God. He was put to death in the body but made alive in the Spirit.' (1 Peter 3:18). The Bible says that God has given Jesus' victory over sin and death to us!
'The sting of death is sin, and the power of sin is the law. But thanks be to God! He gives us the victory through our Lord Jesus Christ.' (1 Corinthians 15:56¬–57)
No losers
There's a saying in sport: 'Winning isn't everything. It's the only thing'. Jesus turns this upside down. He says those who chase being first in the world's eyes are last in God's eyes, but God will lift up those who are last in the world's eyes and place them first in his kingdom (Mark 8:33–37). So don't worry about losing on the court, pitch, field or oval. Through Jesus, you're a winner!
Lessons for Little Leapers (and other assorted sportsfans)
1. Play according to the rules. We honour God when we respect those who make the rules. This applies to kings, prime ministers, and referees and umpires (see Romans 13:1–7). And this means how we play the game is more important than the score.
2. Play according to Jesus' rules. He gives a winner's crown that will last forever.
'Not that I have already obtained all this, or have already been made perfect, but I press on to take hold of that for which Christ Jesus took hold of me. Brothers, I do not consider myself yet to have taken hold of it. But one thing I do: Forgetting what is behind and straining toward what is ahead, I press on toward the goal to win the prize for which God has called me heavenward in Christ Jesus.' (Philippians 3:12–14)
3. Sport, like life, is stained by sin.
When God sent Adam and Eve out of the Garden of Eden (Genesis 3), he told them that their life, and every human life, would now be characterised by frustration. We can expect to see this frustration in sport when:
• the umpire or referee, who is not perfect and can never know and see everything (even with Bunker replays), will make wrong decisions
• other people will cheat and break the rules and seem to get away with it
• injuries will strike you down when you least expect it.
4. Sport is good, but Jesus is better.
My wife and I made going to church as a family a non-negotiable part of being in our family. One of our kids was particularly good at sport but, because rep teams played on Sunday mornings, we only allowed Saturday school sport teams and a mid-week club team. (As for friends' birthday parties and the like, we gave each of our kids four weeks' 'annual leave' from church—four Sundays when they could choose to go to a birthday party or sport game instead of church). We felt this struck a balance between modelling the importance of lifelong commitment to Christian fellowship and the freedom that God's grace brings to each of us. It also communicated to our kids that playing sport at a high level is good, but being on Jesus' team is better.
Sport is a wonderful gift from God. We can encourage our kids to watch and participate in it to the full. But sport can also point us to something even better—the gospel of Jesus. So let's encourage our kids to approach their faith with the same level of enthusiasm:
'Therefore, since we are surrounded by such a great cloud of witnesses, let us throw off everything that hinders and the sin that so easily entangles, and let us run with perseverance the race marked out for us.' (Hebrews 12:1)
---
Craig Roberts is the CEO of Youthworks and an avid sports fan. He and his wife Libby have three children.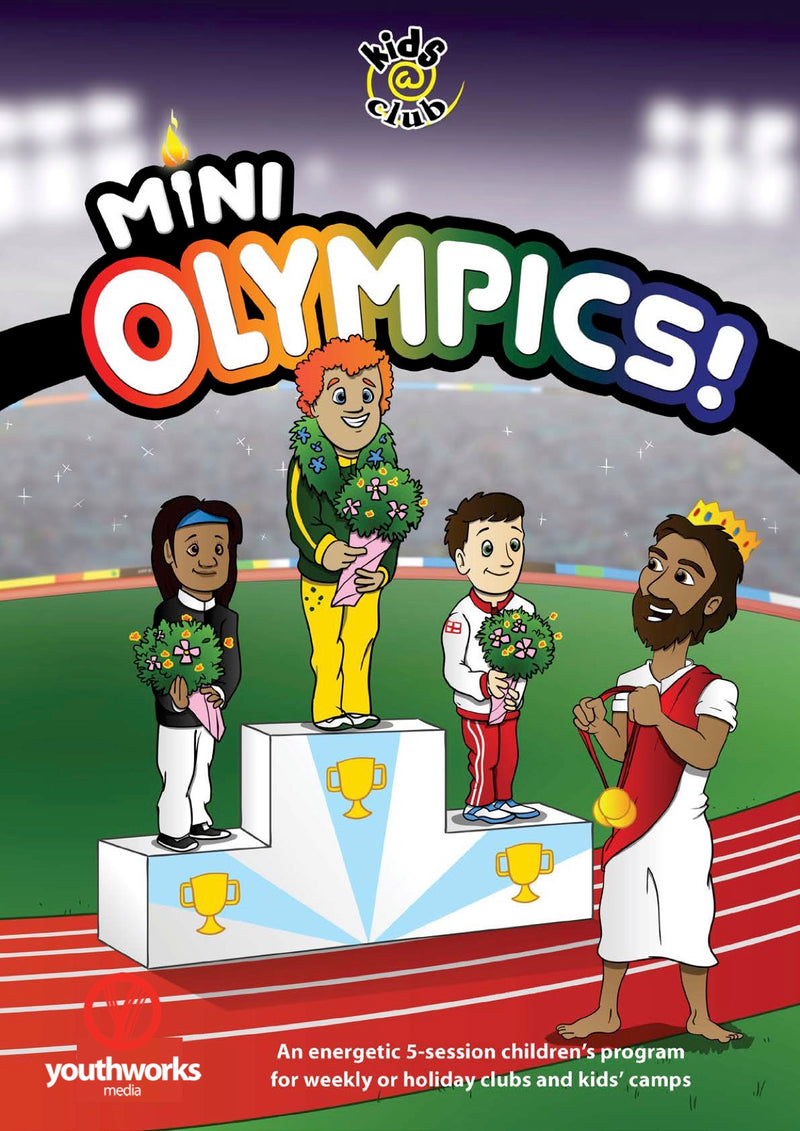 Mini Olympics
This fully revised fun and interactive kids' program teaches children aged 6–11 about running in the most important race, the race of life. Kids will see that by being on Jesus? team they will win the ultimate prize—eternal life!
For more articles from Growing Faith, subscribe to our monthly e-newsletter.
To hear about the latest books and resources from Youthworks Media, subscribe here.
Related Posts: