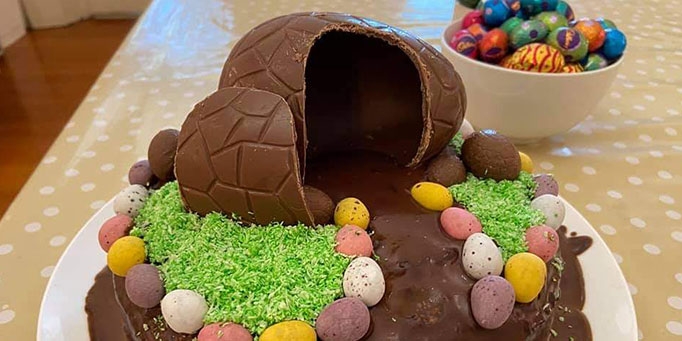 Bunnies, eggs and new birth at Easter
Taking a fresh look at the symbolism of Easter will bring joy to adults and children alike.
Have your children ever asked you what rabbits and eggs have to do with Easter? How did you answer?
Perhaps you said something about new life—rabbits are famous for having lots of babies, and eggs are where little chicks come from. Perhaps you said something about Easter coming at springtime in the Northern Hemisphere—when new life starts to bud and bloom after winter.
Rabbits and eggs are indeed ancient, pre-Christian symbols of fertility. But does that have anything to do with Easter? Isn't Easter about something else—not birth, but death and resurrection?
If we take a closer look at the Bible's own symbols, it's clear that actually, the ideas of birth, death and resurrection are closely linked; they are all symbolised in terms of humanity's relationship to the earth. Following this imagery, the Bible portrays resurrection as a kind of second birth. While the Bible does not use the symbols of rabbits or eggs, you could say that Easter is all about birth—new birth.
Many children (and adults!) are visual learners, so helping them not just to hear the Bible's words, but to see its symbols and images, is a powerful way of connecting them to God's truths.
(Much of this article is based on this insightful video from theologian Alastair Roberts about 'Easter as new birth'.)
The Bible as a story of births
The whole story of the Bible can be told as a series of births. It's all part of the epic struggle between the seed of Eve and the seed of the serpent that God spoke about in Genesis 3:15–16. Every significant moment in salvation history begins not with a powerful ruler issuing decrees from a palace, but with a woman struggling to bring a child to birth:
The story of Abraham's descendants begins with God opening Sarah's 'dead' womb so that Isaac could be conceived in fulfilment of God's promises (Genesis 17–21).
The story of Israel begins with sisters Rachel and Leah engaged in a bitter rivalry over conceiving and bearing sons for their husband, Jacob (Genesis 29–30).
The story of the Exodus begins with midwives and mothers protecting newborn baby boys from being killed by a murderous Pharaoh (Exodus 1–2).
The story of the kingdom of Israel starts with infertile Hannah praying her heart out in the temple (1 Samuel 1–2).
Finally, the story of redemption begins with an angel telling a young virgin that she will conceive and give birth to God's Messiah (Luke 1).
We can trace the theme of birth even further back to the story of creation. As Alastair Roberts points out, the first 'womb' we come across in the Bible is the earth, which brings forth plants, animals and people.
The story of creation begins with a dark and empty place, over which God's Spirit was hovering or literally 'brooding' like a mother hen (Genesis 1:2). Then God spoke and the earth took shape. On subsequent days, God commanded the earth to 'bring forth' or give birth to vegetation and living creatures. Finally, God took the dust of the earth and breathed into it to create the first man—Adam was born from the 'adamah', the Hebrew word for earth.
The earth as womb and tomb
Throughout the Bible we see a mother's womb paralleled with the earth—they are both places of creation. David writes:
'For you created my inmost being;
you knit me together in my mother's womb.
I praise you because I am fearfully and wonderfully made;
your works are wonderful,
I know that full well.
My frame was not hidden from you
when I was made in the secret place,
when I was woven together in the depths of the earth.' (Psalm 139:13–15, emphasis added)
However, the earth is not only like a womb, bringing forth people. It is also like a tomb, where people return in death. As God said to the first man, Adam:
'By the sweat of your brow
you will eat your food
until you return to the ground,
since from it you were taken;
for dust you are
and to dust you will return.' (Genesis 3:19)
Job put these two things together when he famously said:
'Naked I came from my mother's womb,
and naked I shall return there.' (Job 1:21)
The promise of new birth
According to the Old Testament, people who had died rested in the dust of the earth. But the prophets looked forward to a time when the dead would rise again. In the words of Daniel, 'Multitudes who sleep in the dust of the earth will awake: some to everlasting life, others to shame and everlasting contempt' (Daniel 12:2).
Significantly, the prophet Isaiah described this as an event of new birth:
'But your dead will live, Lord;
their bodies will rise –
let those who dwell in the dust
wake up and shout for joy –
your dew is like the dew of the morning;
the earth will give birth to her dead.' (Isaiah 26:19)
The firstborn from among the dead
On that first Easter Saturday, the disciples were grieving. Their friend and teacher had died at the hands of the Romans and now lay buried in a borrowed tomb. The disciples had forgotten Jesus' predictions that he would not only die, but rise again.
But from Easter Sunday, the disciples finally understood: Jesus had become 'the firstborn from among the dead' (Colossians 1:18; Revelation 1:5). He was the first person to experience being 'reborn' from the womb/tomb of the earth. He was the new Adam—born from the 'adamah', but destined to rise to heaven by the Spirit (1 Corinthians 15:47). The resurrection had begun!
Shortly before his death, Jesus himself likened his resurrection to a birth:
'A woman giving birth to a child has pain because her time has come; but when her baby is born she forgets the anguish because of her joy that a child is born into the world. So with you: now is your time of grief, but I will see you again and you will rejoice, and no-one will take away your joy.' (John 16:21–22)
This is the joy of Easter—that Jesus, born of a woman and buried in the earth, has risen up, never to die again. This is our Saviour, who has opened up the womb/tomb of the earth, 'who has destroyed death and has brought life and immortality to light through the gospel' (2 Timothy 1:10).
At the time of Jesus' resurrection, many people who had been buried came out of their tombs and went into the city of Jerusalem (Matthew 27:52–53). In the same way, those who die in Christ are waiting, like buried seeds, for the day when God will give them new birth and they will joyfully follow their Saviour into the heavenly Jerusalem.
By all means, celebrate this Easter with rabbits and eggs, but let's also point our children to the story of Christ—born from the earth, buried in the earth, and born again that first Easter Day to give new birth to us.
---
Harriet Connor is the Content Editor for Growing Faith and the author of Big Picture Parents: Ancient Wisdom for Modern Life (Wipf and Stock, 2017). She lives on the Central Coast of NSW with her husband and four sons.
For more articles from Growing Faith, subscribe to our monthly e-newsletter.
To hear about the latest books and resources from Youthworks Media, subscribe here.
Related Posts: