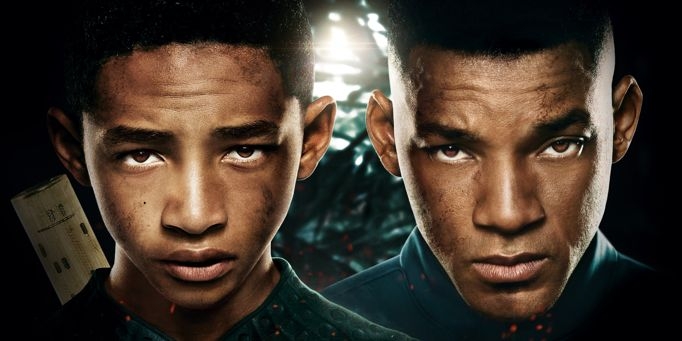 After Earth: Movie Review
A fairly safe sci-fi film with a mixed up message about facing our fears.
After Earth is a family project. Will Smith stars alongside his son, Jaden. He also wrote the story and took charge of most of the directing. Oh, and his wife Jada Pinkett-Smith produced it. And did I mention that Caleeb Pinkett, her brother, was also a producer? So you can be sure the lesson that emerges is definitely the Smiths hope the next generation will take to heart. The question is, would you tell your son the same thing?
Risk-free movie making
After Earth is set a thousand years in the future. Human beings failed in their responsibility to care for our planet and eventually departed for a brighter future in the stars. Unfortunately, aliens took a dislike to their new neighbours and attacked with genetically engineered beasts called Ursa. These creatures are blind, but incredibly sensitive to pheromones – in short, they smell fear. The only warriors capable of defeating them are humanity's elite 'Rangers'. They 'ghost' past these alien horrors because they can control their fear, effectively becoming invisible to their prey. Their greatest leader is General Cypher Raige, played by Will Smith. However when the General's spacecraft crash-lands on the now hostile planet Earth, he only has his estranged son Kitai (Jaden Smith) to rely on. With both of his legs broken, Cypher is forced to talk his boy through a perilous journey that is the key to their survival.
After Earth is a stock-standard 'quest' script that pits Kitai not only against a savage planet and a lurking Ursa, but the expectations of his father. It has some really spooky moments – thanks to director M. Night Shyamalan – and an awful lot of running. But to be honest it's a fairly average science fiction film. There are some cool weapons, but the futuristic technology is so distinctly inhuman that it seems like an awkward fit. Both Will and Jaden Smith deliver their roles with verve, maybe even a little melodrama, but the script takes so few risks that it's pretty easy to see the villain coming an hour out, and its demise is just as certain. That only leaves After Earth's lesson to contend with.
Facing our fears
Unsurprisingly, this father-son performance is in the service of a father-son epic. The fearless Cypher has to put aside his concerns for his son's safety and allow him to grow up. Likewise, his son Kitai has to confront the fear that his father doesn't love him and his more immediate (and understandable) terror of creatures with big, pointy teeth. The philosophy that helps both is a certain perspective on fear that initially sounds like it could have come from the mouth of Jesus.
Cypher passes on to Kitai the lesson his countless battles have taught him, as he tries to help his son overcome his initial panic:
Fear is not real. The only place that fear can exist is in our thoughts of the future. It is a product of our imagination, causing us to fear things that do not at present and may not ever exist.
It's strikingly similar to Jesus' advice to his disciples about letting go of their fears for the future:
Therefore do not worry about tomorrow, for tomorrow will worry about itself. Each day has enough trouble of its own.
We could all do with putting aside imagined anxieties. C.S. Lewis noted that God seldom provides the assistance to carry burdens He hasn't asked us to bear. Cypher's alternative is to "root yourself in the present", which is also the only arena God has given us to exercise our faith. However, when the General tells his son to do it because the present contains 'the only real things' we have to listen to a different father.
God warns us the future actually contains real things to be concerned about and they are as certain to occur as Kitai's victory over the Ursa. Suffering is one; death another, and the judgment that follows. The reason we put aside fear is not because the future is uncertain but because our Father has made the outcome certain. According to Jesus, God values us incredibly, knows our every need, and has already put His provision and protection in place. We will undoubtedly confront our own Ursas in the future, but they are battles He has already won on our behalf.
Watching After Earth with your kids
Despite the carefully cut commercials, After Earth is not so violent or scary that it would worry junior High School students. Try testing Cypher's advice with one of the following:
What does Cypher tell Kitai is the secret to becoming fearless?
Some things won't happen – some things will. Are there things worth worrying about?
How can you deal with every fear the future holds?
For more articles from Growing Faith, subscribe to our monthly e-newsletter.
To hear about the latest books and resources from Youthworks Media, subscribe here.
Related Posts: