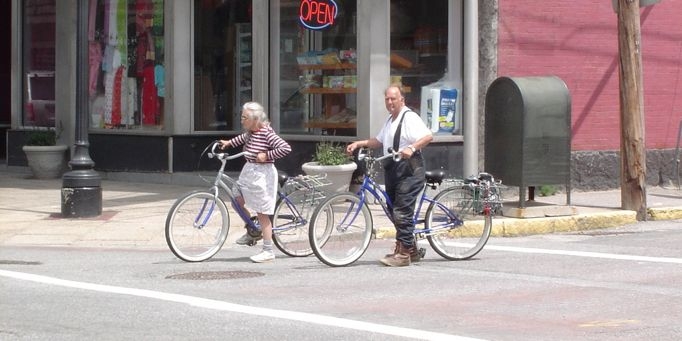 A wise mum does not take her marriage for granted
The best gift you can give your children is a marriage that stands the test of time.
Photo above: Happy Couple, originally uploaded by Just Us 3 on Flickr.
This is a favourite photo of mine. If you follow the link, you can read the story about this couple. They call each other Dear and Honey. They have obviously been together a long time and enjoy sharing their lives together. This photo captures something beautiful about a marriage that is happy and connected. A wise Mum recognises that her marriage is a central relationship in her life. You won't just drift into a happy marriage. Your children will not grow up and leave home for you to then have a deeply fulfilling and happy marriage. If you are not investing in your marriage now, it won't be there when you reach a new season in your life.
A couple who are not emotionally connected are a couple who are unhappy and lonely. It is quite possible to hide the extent to which the hurt and disappointment you are feeling is impacting you both, and it can be quite a surprise to friends and church communities when a relationship breaks down. It does not have to be that way, and it does not involve making gigantic steps that seem like hard work. The people you can't hide it from are your children. They can feel and see the tension, the anger and the conflict and it is not good for them.
A study published in 2011 by Patrick Parkinson "For Kids' Sake: Repairing the Social Environment for Australian Children and Young People" (University of Sydney) highlights the impact of destructive on children of conflict between parents. Not only is there a dramatic increase in reported child abuse and neglect, but the number of our young people with a mental health disorders and displaying risky behaviour such as self harm is on the increase. One of Parkinson's recommendations is for preventative measures, ensuring that children have safe, stable and nurturing relationships. One of the most significant relationships for children is the relationship their parents have with each other - their marriage. The best gift you can give your children is a good marriage.
Bringing Baby Home
One high stress point for married couples is when they have their first child. Bringing Baby Home (BBH) is a course designed for couples expecting their first child. It combines parenting skills and relationship skills between the couple. The research conducted on couples who participate in this course is amazing - including the tone of their relationship, the incidence of post-natal depression and on the development of the child. For example:
• Babies expressed more smiling and laughter during family play if their parents had participated in the BBH program. This was true for both 3 and 12-month-old infants.
• Mothers who took the BBH program rated their babies as showing less distress in response to limitations (such as having a toy out of reach).
My husband and I have run this course twice with groups of couples and it has been positively received by the participants.
Christians can not say "but we are a Christian community and don't have problems such as domestic violence or mental health issues". This would simply be not heeding the song of the canary in the coal mine. For the sake of our children, we need to cultivate healthy patterns of relating with each other. The quality of our marriages is important and it matters.
The struggle for young families
If you are reading this and have three children under the age of five, this will probably be one of the most challenging times in your marriage. It is hard work! I remember being told this at a marriage workshop, as I sat knitting, heavily pregnant with my third child. I heard it and then experienced it first hand.
Often it is the wife who recognises warning signs that all is not going well in a marriage. If you feel like there are some cracks, you can do something about it. As a start, seek the counsel of an older woman who you trust - don't leave it too late or hope that magically, things will improve on their own - they won't. Often the first step to rebuilding emotional connection is admitting that things could be better and making a decision to do something about it.
If this is not your experience, give thanks to God and continue to nurture your relationship with your husband - invest by setting aside "couple time", have fun together and show appreciation for each other. If you love your children, invest in your marriage. Don't take it for granted!
If you read this and feel a sense of shame at your part in the cracks you can see in your relationship, remember, this marvellous promise from the book of Hebrews:
"Therefore, since we have a great high priest who has gone through the heavens, Jesus the Son of God, let us hold firmly to the faith we profess. For we do not have a high priest who is unable to sympathise with our weaknesses, but we have one who has been tempted in every way, just as we are - yet was without sin. Let us then approach the throne of grace with confidence, so that we may receive mercy and find grace to help us in our time of need." (Hebrews 4:14-16)
This passage follows an earlier verse about how God sees into the very core of our beings - that everything is uncovered and laid bare before Him. When things are not good, it is tempting to want to hide away with shame. These verses are a strong exhortation to each of us to approach the throne of grace - at any time when we are in need.
My prayer for each of you who read this, is that you will not only hold firmly to your faith, but will also ask for help in facing your hurts, disappointments and vulnerabilities.
For more articles from Growing Faith, subscribe to our monthly e-newsletter.
To hear about the latest books and resources from Youthworks Media, subscribe here.
Related Posts: