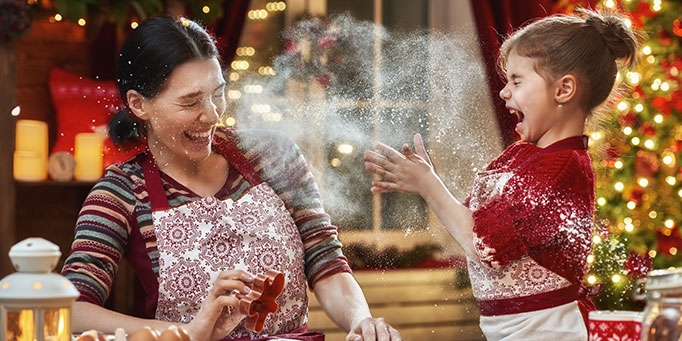 Have a merry creative Christmas!
Bright ideas to get festive with your family this Christmas season.
Wow! What a year 2020 has been! If you are anything like me, you're partly wondering how we got to Christmas so quickly and partly wondering how on earth you survived the crazy year that we've had.
We have probably had more time with our immediate family than we expected, and more of that time was spent at home rather than out and about. We learned how to go to church online, participate in Bible studies via Zoom and stay connected with people when we couldn't meet face-to-face. We have much to be thankful for in being able to start returning to our usual activities, but the effects of COVID are still lingering, with end-of-year school assemblies and Christmas carol events cancelled or pared right back.
So, how can we get that 'Christmas feeling' without these events to rely on? By getting creative!
I love the first chapter of Genesis, where God speaks and the world bursts forth. We serve a creative God, a God of wonderful ingenuity. When we turn to the first few chapters of Luke, we see that his creativity is still on display—sparkling in the star guiding the wise men, streaming from the songs of the angels and nestling in the trough of a lowly Bethlehem stable. The Christmas story invites us to stop and wonder at God's creativity.
Here are some ways that we can creatively bring the joy and wonder of that first Christmas through the door of our own homes.
Get cooking
There is nothing like food to get a party started! I love getting my kids into the kitchen with me to make tasty Christmas treats.
When we venture into the kitchen, it's important to set ourselves up for success. I do this by making sure that I am rested, that we aren't under time pressure and that I haven't just mopped the floors (inevitably, they will get dirty again!). I also need to be armed with simple recipes that we can cook together. You can find an amazing array of easy Christmas recipes for kids with a simple Google search. I like to find recipes with reviews too, so that I can see what others think of it. Coles and Woolworths magazines are a great place to start; Kidspot has some good recipes online too.
I get creative by making staple recipes with a twist. For example, you can make choc-chip cookies, but substitute the choc chips with crushed candy canes; or you can decorate cupcakes with green icing and 'holly' made of red raspberry lollies and mint leaves.
Make Christmas cards
I love getting the kids to make Christmas cards for family and friends (and they love it too!). On a recent trip to Kmart, I found packs of blank cards, interesting papers and embellishments that were relatively inexpensive. With a little bit of guidance, children can get a result they are really pleased with. You can do simple things like using cookie cutters as stencils: trace around them on Christmas wrapping paper and then glue the shapes onto a card. You can also make baubles by gluing on coloured buttons, or Christmas trees out of strips of paper. I have also watched YouTube tutorials on easy watercolour cards for kids with a variety of options that grow in complexity.
Get drawing
A few years ago, I discovered YouTube drawing tutorials for kids and now we regularly use them during family holiday periods. There are kids' drawing channels that even very young children can follow and many of them release special tutorials for Christmas. 'Draw So Cute' and 'Art for Kids Hub' are two of our favourites. Sometimes, I even sit down and draw along with my children to get my own creative juices flowing.
Get singing
Sadly, we may not all be able to sing in our local church congregations this year, but we can still sing in our families! In our family, we gather around the piano or guitar and sing Christmas worship songs together. If your family isn't musical, you could put on some Christmas carols in the background during the day or listen to some YouTube Christmas songs together and sing along. Our family enjoys listening to groups like Pentatonix and Hillsong Worship to help us praise and worship God over the Christmas period. Occasionally, we even have family karaoke nights, where we take turns to sing songs with YouTube karaoke clips.
Get decorating
This year, I decided to put up a Christmas tree in the Year 4 classroom where I teach. I was amazed at the way it drew students into the classroom; I was surprised when the simple act of hanging a decoration on the tree brought each student so much delight. We don't need an 'Instagram-worthy' tree that is bombarded with likes on social media. Decorating our home for Christmas can be as simple as colouring in printed decorations and hanging them up with string or hanging up some fairy lights. Or we can go all out with our 'halls' decked with boughs of holly and our trees full of glistening decorations. Whatever your style, make it easy and enjoy the time of decorating together.
However you decide to bring creativity into your COVID Christmas, may you remember that proclaiming the real God-story of Christmas is more important than picture-worthy social media posts. The moments when we stop and wonder at our Creator God who sent a Saviour will outlive all the activities we plan. The attitude of our heart also matters. My children won't remember a magazine-worthy card or cupcake, but they will remember a cranky mother yelling at them when they dropped flour on the floor or covered the dining room in glitter.
As we lead our families into the Christmas season, may we lead them in the preparation of our hearts to receive and worship our Saviour—born in a stable, teaching on a mountainside, dying on a hill, ascending to heaven and, one day, returning to reign.
---
Emily Cobb is wife to David and mother to three children. She loves to write and reflect on who God is at her blog emilykcobb.com.au and is passionate about biblical literacy among women. Emily is the author of Made for More (Matthias Media).
For more articles from Growing Faith, subscribe to our monthly e-newsletter.
To hear about the latest books and resources from Youthworks Media, subscribe here.
Related Posts: