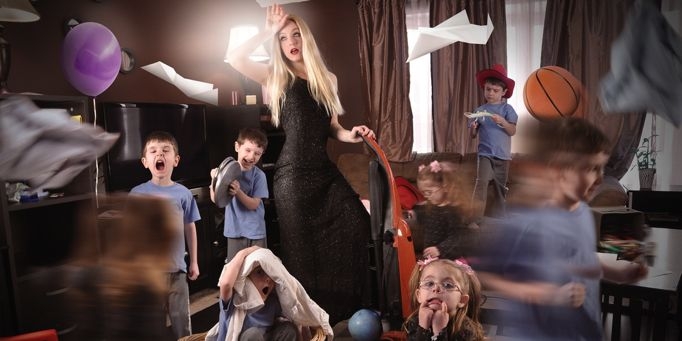 Families are not projects
Jenny Kemp says focusing on relationships can take the pressure off making 'successful' kids and families.
My family is in a busy stage of life, where my husband and I exchange instructions like "Can you pick up Child 3 from band and then get Child 4 from kid's club and get Child 2 from her friend's house? And oh yes, please remind them to do their homework and music practice".
While it is a rich and blessed stage of life, I sometimes feel like I'm participating in the latest series of a kind of Parenting Bootcamp reality TV show. I'm madly shouting instructions like, 'Get down and make that bed, come on, you can go faster' or 'Where are those home readers? Come on, pick them up, get moving ' (or words to that effect – you get my gist!).
I can feel the pressure to get all the components of a 'successful' child plugged in, otherwise I'm failing at my task. I'm told by the world they need to be the best they can be, including being:
good at school
great swimmers
fast athletes
proficient musicians
balanced, social individuals who are able to look out for others.


It can be so easy to operate like I'm overseeing a giant project, that I forget I'm actually in a relationship with my kids. I vaguely remember that's why I wanted to have them in the first place.
In these times, I always find it helpful to think about what it is exactly that God wants from me as their Mum. God gave us our children as a unique gift, and my most important job is to help them know God and his ways.
In Deuteronomy 6:5-7 we read 'Love the Lord your God with all your heart and with all your soul and with all your strength. These commandments that I give you today are to be on your hearts. Impress them on your children. Talk about them when you sit at home and when you walk along the road, when you lie down and when you get up'. Deuteronomy encourages us to share God's truths with our children in the everyday stuff, the ordinary stuff, in the normal. We need to be with our kids. And we need to do all we can to have a good relationship with them.
God is all about relationship. God has shown the value he places on his relationship with us by sending Jesus to clear the way for us to be called his children. We are not a project. We are his family!
God's relationship with me is not dependent on how successful I am. In fact it is quite the opposite. Ephesians 2:4-5 tells me that it's when I was at my most rotten that God made it possible for me to know him. 'But because of his great love for us, God, who is rich in mercy, made us alive with Christ even when we were dead in transgressions—it is by grace you have been saved'. For my kids to know Jesus, they need to know that regardless of what comes, I will love and accept them.
Why? Because this is what God does for me everyday. When I've been less than enthusiastic about being a follower of Jesus or when I've stumbled (yet again) in my sin, God keeps loving me and giving me His spirit to enable me to keep changing and growing.
For more articles from Growing Faith, subscribe to our monthly e-newsletter.
To hear about the latest books and resources from Youthworks Media, subscribe here.
Related Posts: