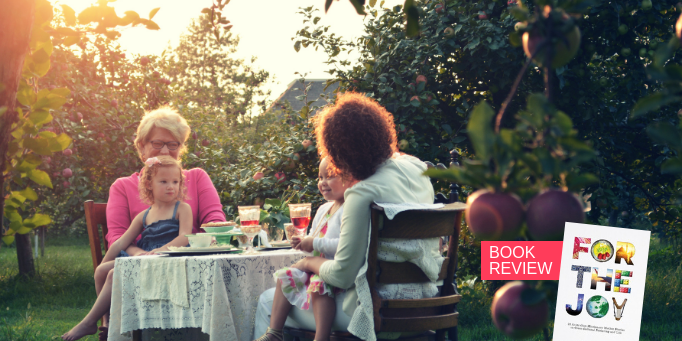 'For The Joy' by Miriam Chan & Sophia Russell (Editors)
In 'For The Joy', 21 Australian missionary mothers bravely offer a window into their ordinary, yet extraordinary lives.
Motherhood has its own culture shock. It is a sudden change of worlds, a rollercoaster plunge of wonder and terror, joy and sorrow, tedium and exhilaration, belonging and disorientation. Imagine the challenge of embarking on this journey within a country, culture, and language not your own! In For The Joy, 21 Australian missionary mothers bravely offer a window into their ordinary, yet extraordinary, lives.
Twenty-one women, 21 stories—terrorist shooters in school corridors, bottle-top soccer, Chinese reality television, traumatic birth, street market friendships, plentiful cups of tea, the death of loved ones and crippling anxiety are but a tiny taste of the breadth and depth of their stories. Their beautiful voices are raw, honest and God-filled. I read through blinking tears. Expecting to consume the book in measured portions, instead, the next story would hook me in with a 'just one more episode' enticement.
In 'Lost and Found', Mai returns to Australia in the midst of a battle with anxiety after the birth of her son. She writes of her grief and confusion, 'What was God's purpose in this? We were here in Vietnam for God, so how could it go so wrong? I was a missionary: a supposed "hero of the faith", but I felt like a failure. I felt guilty for not being able to be the strong and courageous missionary mother and wife everyone always said I was. I did not believe that God loved Chris, my only child, even more than I did. There was a disconnect between what I knew in my head and what I experienced in my heart. I didn't trust God. I was trying to control everything: my life, my child, my choices and my husband'.
I ached for Mai, for haven't we all been here in a thousand ways, where the lives we have worked hard to make God-shaped collide with the confounding mystery of God's plans? Yet despair is not where Mai ends. 'I praise him for what I experienced and suffered in Vietnam. If I had to choose, I would go through it all again if it meant I could go deeper in my relationship with my Saviour and grow more into who he has made me to be.'
Mai and her family returned to mission work elsewhere in Asia.
While all life is mission, it can be tempting to cast those who answer Jesus' call to the nations as superheroes of the faith. A missionary friend once told me that if she wrote about her struggles in prayer letters home then she would receive messages from supporters questioning her commitment and her faith, and suggesting that she was unfit for the task. We don't question Paul's faith as he writes to friends about shipwreck, snake bite, starvation, prison, grief, confusion and spiritual warfare. Our God of love spins our troubles to forge our faith. The miracle is that missionaries are not super-human, yet they survive the impossible. The strength witnessed by these women is the same Holy Spirit at work in all believers willing to abandon themselves in order to go into God's arms. It is Jesus Christ who overcomes the world.
With every story I fell in love with God all over again. Each tells a living parable of hope. Each story reminded me of who I am, why I am here and where I am going. Among the chaos of our world and the mess of our daily life it can be easy to forget that God's kingdom is truly dawning within his people and that we should look ahead to the joy of Jesus' final return.
Do pop this book into many stockings this Christmas.
For The Joy: 21 Australian Missionary Mother Stories on Cross-Cultural Parenting and Life is edited by Miriam Chan and Sophia Russell and published by Grace Abounding Books. It can be purchased at the The Wandering Bookseller.
'Therefore, since we are surrounded by such a great cloud of witnesses, let us throw off everything that hinders and the sin that so easily entangles. And let us run with perseverance the race marked out for us, fixing our eyes on Jesus, the pioneer and perfecter of faith. For the joy set before him he endured the cross, scorning its shame, and sat down at the right hand of the throne of God.'

–-Hebrews 12:12
For more articles from Growing Faith, subscribe to our monthly e-newsletter.
To hear about the latest books and resources from Youthworks Media, subscribe here.
Related Posts: