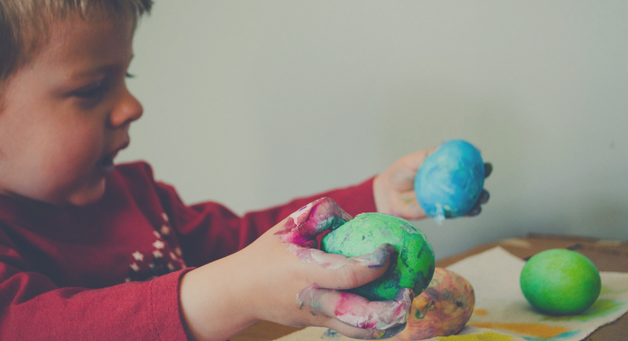 Big Picture Bible Craft Review
Craft is a valuable tool for learning. Tamara helps families understand the value of craft in Children's Ministry as she reviews this exciting resource.
Craft done well is hard work. Week after week, the children's ministry team at church are searching for ways to do craft that reinforce the big idea we've learned, aren't too complicated, aren't too lame, and won't blow our budget. Week after week, we do pretty okay but it's rare that we hit a home run with craft. Some teams have a craft genius, but we're more skilled in other areas and we could use a hand with all things crafty.
That's why Big Picture Bible Crafts is brilliant for us.
There are a lot of children's craft books that explain how to make cute crafts that are sort of related to the big idea, but not quite right. Big Picture Bible Crafts seeks to give crafts that don't just engage the children's hands, but their imaginations and memories of the Scriptures as well. It also covers a whole lot of the Bible so there's plenty of opportunity to utilise it in your week to week ministries.
It also doesn't assume that you're good at craft. There's both a simple and a complex version of each craft, so different ages (and let's be honest, leader skill levels) can use whichever version works best for that particular moment.
I sat down with a few children from church to work on some crafts over the holidays to see how easy they were to do. Here's two quick stories about how this went.
God makes dry bones live (Ezekiel 37)
A Year 3 boy decided he wanted to make something with a skeleton when he glanced at this craft, because 'skeletons are cool!'. When we read the passage together he decided it was even cooler that God could breathe life into them and suddenly they'd be alive again. We sat together and folded the pages. He was more patient than I was about the whole thing and his folds were neater than mine, and as we did it, he talked to me about how he once saw a real skeleton in a museum with school, and also asked about how God would breathe on something if God wasn't physically there. Thankfully, his Year 5 friend was there to explain a little bit about how the Bible works and that it doesn't mean God literally breathed on the bones, just that we're like bones and God gives us life! How good is it when little kids are taught by bigger kids?!
The conversation around the craft flowed well with each picture as the person was built up from the bones and when we were done, the boys could explain what Ezekiel 37 was talking about with a whole lot of excitement. Brilliant. That's a craft win!
God gives John a vision of things to come (Revelation 4)
A particularly craft-loving year two girl and her kindergarten friend chose this one because it looked complicated and they wanted a challenge. It turns out that we were a bit too ambitious and I actually can't show you photos of it, because they never got finished. There was a lot of cutting and folding and children's scissors don't always lend themselves to getting things done. The lesson I learned through this one was that you've got to make the best of each and every situation—even if you should have chosen the much simpler version of the craft rather than the challenging one!
We chatted about how frustrating the world can be and how things don't always go as planned, and how the picture we were trying to make from Revelation was when God was going to make everything right again and things would be just how they should be. The girls talked about how there would be no more bullying, or crying, and you wouldn't ever lose toys again 'because your brain wouldn't forget anymore'.
All in all, it wasn't as successful as it could have been but that's not really the point. Craft isn't about art in children's ministry (though sometimes it looks that way when things go particularly well!).
Big Picture Bible Craft helps us use craft well to reinforce big ideas and to impress the Bible onto the minds of the little ones God has entrusted to our care. It's taken some weight off my children's ministry team's shoulders, and I'm sure it could help yours too. If you've got a craft guru, this could be a great tool for them. If you don't, then it'll help you lift your craft game just a little bit so that precious time is used well.
---
Tamara is a God delighting, tea filled, colour loving woman who dwells in the beautiful suburb of Earlwood. She spends her time serving as children's minister at Earlwood Anglican, enjoying life with her husband, The James, and pursuing a newfound love of sewing clothing in an effort to slow fashion down. Her greatest joys in life are Jesus' ridiculous love for His people, adventures with The James, time spent among God's people, and a few hours alone with tea and a book.
For more articles from Growing Faith, subscribe to our monthly e-newsletter.
To hear about the latest books and resources from Youthworks Media, subscribe here.
Related Posts: