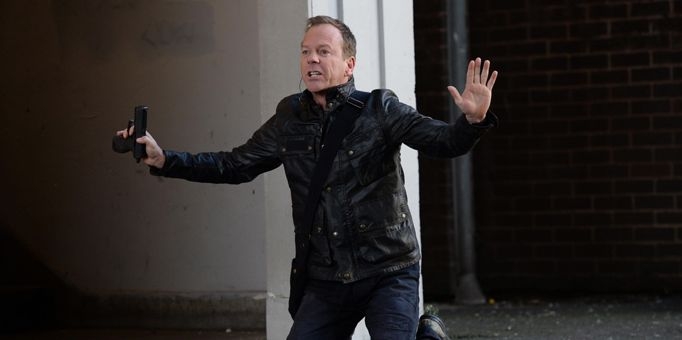 24: Live Another Day Review
Jack Bauer is discovered in London, but this time the hunter becomes the hunted.
Jack is back.
After a four-year hiatus, the revolutionary television series 24 has returned to our screens, although this time it's a condensed twelve-episode edition. Fox is clearly testing the waters to see if audiences in the 2010s are still in the mood for assassination plots, moles, and high-stakes intelligence operations. As with all other seasons of 24, the action occurs in real time, but for the first time in the new setting of London.
Admittedly, I've only seen a few seasons of 24. I saw season one as a teenager and loved seeing Counter Terrorist Unit (CTU) agent Jack Bauer balance commitment to national security and the safety of his family. It was a gripping adventure each and every week and was filled with surprises and twists right until the final seconds. I also saw season two, which introduced Kate Warner to the series. It wasn't a perfect season, particularly due to a now infamous scene where Jack's daughter Kim is stalked by a cougar in the wilderness. Big cats aren't as scary as terrorists.
So having not seen the six seasons of 24 that fills the gap, there's clearly plenty of plot points and relationship changes that I've missed as I come to Live Another Day. Thankfully the double-episode premiere brings things up to speed, dropping some character names here and there, but soon moving on to new ground. And the show does move at a quick pace – hopefully the shorter season will save the show from a mid-season slump.
24 hours in London
The premiere episode takes place in London starting at 11am, where Jack Bauer (Kiefer Sutherland) is discovered by the CIA. Since the events of season eight four years ago, he's been a fugitive on the run from the authorities. But suddenly he shows up in London, and the CIA manage to capture him with ease. He is questioned, but sits silently. In fact, Jack keeps his mouth zipped until roughly forty minutes into the episode.
It plays out that he's after Chloe O'Brian, a former CTU director who has been held by the CIA in a torture room. Jack manages to escape, grab Chloe, and both make it out without being caught. They head to Chloe's underground hacker hub where it seems, London teens have access to intelligence records. Yikes.
The threats are evident from early on. Jack has heard intel that the President of the United States (also in London at the time) is at risk of being assassinated, and also US drones are being hacked and deployed. Throw in a President with signs of dementia, a risk of a new world war erupting, and of course Jack Bauer still wanted by the CIA – there's plenty left to resolve in the next ten episodes.
Where's the justice?
All of this is quintessential 24. There's also everything else you'd expect, from the shaky camera, to the multi-shot split screens. Jack is certainly back. But you can't help feel a weird sense of injustice as the CIA hunt Bauer down.
has always been this capable guy. Sure, he often takes things into his own hands and lacks sense sometimes, but we always rely on Jack to save the day. He has the brains and the brawn to take down enemies – but he often fails to do this while caring for those he loves.
It's hard for us to see him treated the way he does by the CIA in this premiere double-episode. He's wanted as a fugitive, yet he's our hero! Jack is captured as a guilty man, yet as we watch we see there are characters who are more guilty, threatening and dangerous than Jack. Jack is the prime target.
Innocence and guilt is on show here. Not just with Jack, but also when a drone strike is issued via a hack, fingers are very quickly pointed at an innocent man.
Hunting the wrong guy
As much as we love to uphold Jack Bauer as a hero, particularly in this post-9/11 world, he's clearly not perfect, or innocent. His decisions and agenda often cost the lives of innocent people. Jesus is the hero this world has always needed, and still does need.
In the days leading to his death, Jesus was the number one target for the religious leaders of the day. They wanted to charge him for blasphemy, for claiming to be God, although Jesus was innocent because he is God. He was sinless. And yet, a criminal called Barabbas was allowed to walk free in place of our innocent saviour. Mark 15:12-15.
There is a scene towards the end of the 24 double-episode where Jack is hunted down by the CIA, while those plotting true terror get to run free. Jack pleads with the CIA to hunt down the fleeing offenders but they don't. Their only concern is that Jack is put behind bars.
This is just like this scene with Barabbas, but Jesus is really completely innocent. A convicted criminal gets to walk free while our innocent saviour is put to death. It's unjust. But Jesus ends up having the victory when he is risen to life again and will one day return to judge with true justice.
I'm glad 24 is back and I'm looking forward to what twists and turns lie ahead. I'm giving the double-episode premiere of 24: Live Another Day four out of five stars. It airs in Australia Mondays at 8:45pm on Network Ten starting May 12.
For more articles from Growing Faith, subscribe to our monthly e-newsletter.
To hear about the latest books and resources from Youthworks Media, subscribe here.
Related Posts: