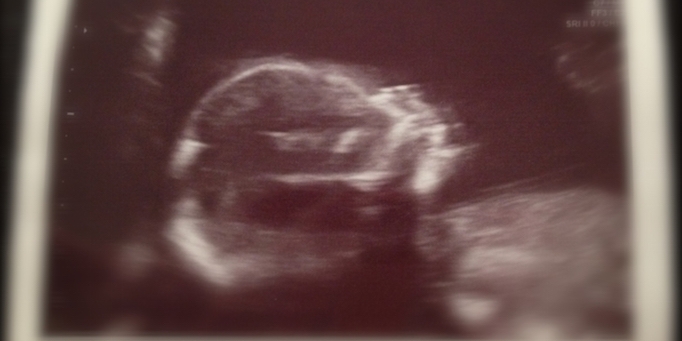 Why we kept our baby
After their unborn child was given a reduced chance of survival, Sarah and Gus turned to God.
Our baby was diagnosed with a congenital heart condition during the routine 19 week morphology ultrasound.
The scan takes about an hour and for most of the time we just sat in awe, amazed that yes we were really having a baby and that baby was moving around on the screen in front of us.
Towards the end of the scan the technician said she couldn't get a good enough picture of the heart because of how the baby was positioned. This made me chuckle, as every other scan we'd had with my obstetrician the baby had been moving around madly or not in the "right" position for good clear photographs.
Then she suggested we see a fetal cardiac specialist which all sounded routine until I rang my obstetrician to organise a referral he seemed a bit alarmed and wanted to find out exactly what the technician had seen or not seen.
With hindsight, I'm so thankful that we had the obstetrician on our side and that he knew what questions to ask. He rang the practice and spoke to another specialist, who confirmed that she thought one side of the heart was too small and that the heart might be slightly too far in the centre of the chest.
That update came as we were sitting in the car, stuck in Sydney traffic on our way to a job interview for my husband Gus (it was a big week – we were also preparing to finish at the Bible College where Gus and I had lived and studied, farewell friends and move house!).
At our obstetrician's prompting our appointment to see the fetal cardiac specialist was bumped up to the next day.
At the hospital
We went to the hospital with a fair bit of trepidation, not helped by the 1.5 hour wait in the waiting room. She then repeated the morphology scan with a focus on the baby's heart. And surprise surprise, the baby's position wasn't great for this appointment either!
After she completed the scan Gus and I sat side by side and she explained what was going on: the right hand side of our baby's heart had not developed properly, and on the scale of harmless to fatal it's condition was pretty serious.
Our baby would require medical intervention straight after birth, multiple open heart surgeries, and if they were successful it would it have a 60 – 70% survival rate to a reduced quality of life that would include no intense physical activity or contact sport.
As she spoke, Gus and I held hands tightly and I began to cry. This was definitely not what we'd expected when we walked into the ultrasound practice 24 hours before.
A confronting question
The next question was whether we would like to terminate the pregnancy given the serious nature of the baby's condition. We needed to make a decision quickly she said, as there wasn't much time before I passed the 20 week mark and decisions to end the pregnancy became much more complicated.
When we started trying to have a baby and then found out we were pregnant, I never imagined that we'd be asked so this question so directly.
While I cried some more, Gus answered the specialist that we both wanted to continue with the pregnancy despite the baby's condition.
By her tone I think she felt that Gus was calling the shots himself and so she turned to me and asked me if I was sure that was my decision too. I nodded, as yes of course it was.
For a week or two leading up to the scan I'd been feeling the baby kick, the tiny punches distracting me no end in lectures and cementing my firm belief in the beauty of the life growing inside me, one that had been handcrafted by God, just as Psalm 139:13-14 says:
For you created my inmost being; you knit me together in my mother's womb. I praise you because I am fearfully and wonderfully made; your works are wonderful, I know that full well.
The specialists' response? "Are you very religious?" I answered quickly, "Um… we're Christians" and we mentioned the study that Gus had just completed.
I've pondered this conversation many times since it occurred last November. I wonder what she would have said if we hadn't had a particular religious affiliation? Would there have been less justification for our decision? Who knows.
Trusting God
It was hard not to feel vulnerable in that room, and that our personal beliefs and preferences were being challenged. Unfortunately it seems that our experience is not unique either – I know of others who've had similar conversations and also felt pressured.
But I am so thankful that Gus and I have a firm foundation from which to make our decisions – a trust in Christ Jesus built on the truth of the Bible that gives us hope despite life not going according to our plans. I can't imagine the turmoil people must wrestle with if they are presented with the same choice we were and haven't thought about it before.
We haven't seen that specialist again in a professional capacity, but did run into her in a cafe on our visit to the Children's Hospital. When we saw her then she said, "Well you've decided to continue with the pregnancy…", again suggesting she questioned our decision.
Since the first specialist, our decision to continue with the pregnancy hasn't been challenged by any medical professionals we've met.
Our baby's diagnosis has also changed slightly, after our care was transferred to a new obstetrician, cardiologist and care team at Westmead Children's Hospital and more scans were done. The adjustment doesn't make much of a difference to our understanding of the baby's care plan, but it is a very slightly less complicated condition with a survival rate of 85%.
While I might not have chosen or planned our pregnancy to travel this road, I am so thankful to God for the child he has knit together within me, for the experiences we've had so far that have caused us to cling to him more closely, and for the journey he has prepared for us to walk.
The next verses of Psalm 139 remind me that they are not unknown to him:
My frame was not hidden from you when I was made in the secret place, when I was woven together in the depths of the earth. Your eyes saw my unformed body; all the days ordained for me were written in your book before one of them came to be.
---

Article originally published on Sarah's blog, Write Your Name on My Heart. Reproduced with Permission.
*Picture is Gus and Sarah's baby at 19 weeks – the clearest photo they've had all pregnancy.
For more articles from Growing Faith, subscribe to our monthly e-newsletter.
To hear about the latest books and resources from Youthworks Media, subscribe here.
Related Posts: