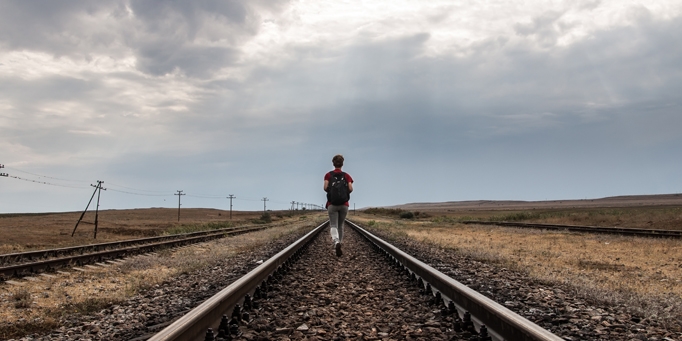 Holding onto Jesus when our children walk away from him
Kat Israel reflects on Abraham's agony.
Many hundreds of years ago, a dad named Abraham climbed a mountain in order to make a sacrifice to his God. With him was his longed for, loved, treasured son Isaac—the son that God himself had given, and that he had now commanded Abraham to kill as a sacrifice.
Imagine the sickening horror, the tearing grief that Abraham surely felt as he climbed the mountain, as he tied the ropes, as he looked into the eyes of his son—his longed for, loved, treasured son?
We know the happy outcome of the story—that God would provide a ram to sacrifice in place of Isaac—but as he raised his arm, clutching his knife, Abraham did not know. I cannot imagine the scene without being moved. Did Isaac resist or cry out? Did Abraham sob? Horrifying. A man obeys his God and prepares to give up his dearest treasure. Abraham's obedience is shocking, compelling, devastating. Is this really the faith that our God requires?
I think of Abraham often as I parent my unbelieving child—my treasured child, who has turned away from Jesus. Because although God has not asked me to physically sacrifice my child, he is leading me to surrender my plans and hopes and to trust instead in his. In my head I know God is God and I am not, but my heart has spent a lifetime pushing away the appalling truth that God may not do what I want him to do.
There's nothing I long for more than for my children to know Jesus as their friend and King. That's what I want. But God has promised me this: himself.
I've been forced to ask myself: Is that enough? Is God—just God himself, without the faith of my children, without other good things I hold dear—enough?
And often my honest answer is 'Not really'. My heart rages and pounds fists of angry grief as I watch the slipping and sinking of loved ones. But as I shake my fist at God, I'm also praying that God will protect me from the impulse to let go of Jesus—the only thing I cannot lose—in order to grasp at things I cannot keep hold of, however hard I might try.
My child's salvation is not mine to demand. Indeed, what earthly good can we catch and keep? Jesus' parable of the rich man storing up his wealth in barns teaches us that nothing is really ours. Even in those moments when I'm tempted to turn my face from the God who I don't understand and who isn't doing what I want, pragmatism, and Jesus himself, tell me that I can have one thing—Jesus—or no things. 'What good is it for someone to gain the whole world, yet forfeit their soul?' Matthew 16:26
And this is true of all earthly things—reputations, success, health, relationships, families. When Jesus told his disciples they needed to be ready to give up these things, he was asking them to give up things they couldn't keep anyway.
And yet, the temptation is great. To water down. To drift away. To cobble together in my mind a more palatable God and to give up something of my own faith, imagining I'm giving up something 'for' my children, when the reality is my children will gain nothing, and will likely lose much, from my unbelief. And I will lose all.
Trusting God, let alone having joy in him, is not something I can do myself. I'm learning that, like the weak but faithful parent who begged Jesus' help for his son, I must cry 'Lord, I believe; help my unbelief' (Mark 9:23). I must depend wholly on God for the faith to continue walking with him in the face of heartbreak, and ask that I will, impossibly, take joy in my God, even though his ways are beyond my understanding.
God is God, I am not. God will do what he will do, and not what I want. I know that God could turn the heart of my child to himself this day, this instant. He can do more than I ask or imagine. But he may not, and this is deeply unsettling.
In recent years I've been drawn more and more to the Old Testament and its stories of God's faithfulness and mercy to hard-hearted people. I've been amazed by the lengths God went to in order to rescue his people, despite their wickedness towards one another and their repeated spitting in the face of God. God is teaching me—through his word, through circumstances, and the wise counsel of his church—that he is drastically merciful.
In C S Lewis' The Lion, the Witch and the Wardrobe, Lucy asks Aslan if anything can be done to rescue her brother Edmund, who has betrayed them. Aslan, the mighty Lion who represents Jesus in the story, answers solemnly, 'All shall be done, but it may be harder than you think'. Aslan goes on to die in place of the traitor Edmund, echoing Jesus' great sacrifice on the cross, made to bring about the rescue of sinners—you, me, my children.
This is my God. Who rescued his people out of Egypt, who forgave and forgave and forgave a wicked nation, who sacrificed his own beloved son to die a violent and shameful death in our place. All has been done. So, do I believe that all will be done to save my child? That, to each sinner I know and love, all that's needed to enable their repentance will be given—sufficient to penetrate the brokenness of their lives, the hurts of their histories, the confusion of their minds? Do I trust that God will do enough, and that my God who is merciful will act with justice?
'Lord, I believe; help my unbelief.' (Mark 9:23)
Like Abraham as he prepared to slay his son, I don't know the end of my child's story. But I do know that God is using this grief to soften and grow me. Abraham was ready to give back to God that which he understood was not really his in the first place, and his radical, painful obedience in the face of horrifying despair changed Abraham, and the world, forever.
'Do not lay a hand on the boy', [The angel of the LORD] said. 'Do not do anything to him. Now I know that you fear God ... because you have done this and have not withheld your son, your only son, I will surely bless you and make your descendants as numerous as the stars in the sky and as the sand on the seashore. Your descendants will take possession of the cities of their enemies, and through your offspring all nations on earth will be blessed, because you have obeyed me.' (Genesis 22:12, 16–18)
The obedience that God requires of us is not to sacrifice our children, but to continue trusting in God's goodness, even as we weep.
Lord, you have been faithful across generations. You have shown mercy to the wicked; to me.
You have shown through your word your lavish mercy, even towards the hard of heart.
You have shown through your word that you are worthy of trust, even when we can't understand what you're doing.
You have shown that you will do all to bring sinners into your Kingdom, and yet, here is my child, turning their face from you.
Lord, have mercy on my child. Cause them to repent, and, by your grace, bring them into the beauty, hope and freedom of relationship with you.
Lord, have mercy on me. My faith is weak, I am confused and grieved—please hold onto me as I falter.
Despair threatens to engulf me—please grant me the gift of deep joy in knowing you as friend and King, and please teach my heart to know that your grace is sufficient.
Lord, I believe; help my unbelief.
Amen
---
Kat Israel is mum to one young adult and four school-aged kids, and a preschool educator. She is married to Toby and they live in suburban Sydney.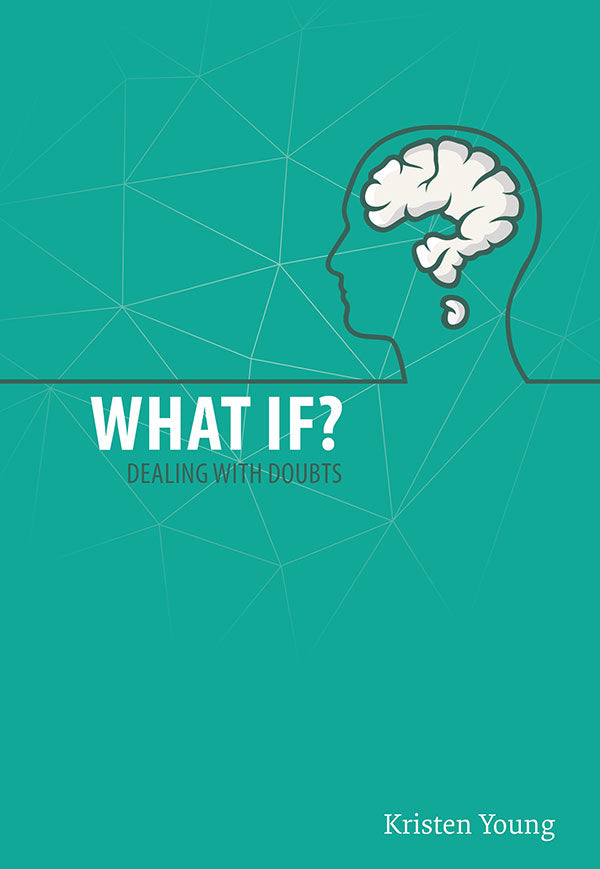 What If?
This easy-to-read book gives the beginnings of answers to some of life's biggest questions, about God, Jesus, the Bible and you.
For more articles from Growing Faith, subscribe to our monthly e-newsletter.
To hear about the latest books and resources from Youthworks Media, subscribe here.
Related Posts: