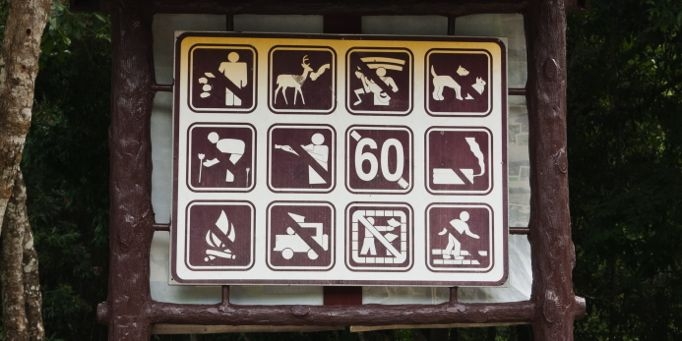 Can you read the signs?
Families need to remember where they've come from and where they're going.
Sometimes our family goes on walks in the National Park. And sometimes as we make our way forward, we come across a little information sign in the ground.
It might be a map of the walk we are on, or a small sign with information about a plant, or the view, or the sorts of animals that live in this particular habitat. Or it might tell us about a pioneering explorer who passed this way. The sign tells us about where we have come from, where we are now, or where we are going.
Signs are helpful. We normally stop and look at them. If nothing else, they offer an excuse to rest and, if supplies allow, to eat or to drink something. But more than that, every now and then we find it helpful to be reminded where we have come from, where we are now and where we are going.
Signs of faith
In our spiritual lives, it is likewise important to be reminded where we have come from, where we are now and where we are going. But the trouble is, a post-Christian world does not offer us that many signposts along the way. Christmas and Easter are still there. They offer us significant opportunities to stop and to reorient. But if I were on a bush-walk that lasted 365 days, I would hope for more than three or four signs between the start and the finish.
In the National Park, I am especially thankful for signs that appear at a crossroads or a fork in the trail, at places where I am more likely to go off-track and end up getting lost. In my spiritual walk, I am most likely to take a wrong turn or head off on an unnecessary detour when I am lonely, confused or when I am hurt. This is when I most want life to be organised around me. I want people to come to my aid. I want answers to my questions. I want people to be held accountable for their treatment of me.
It is at times like this that I find the Psalms so helpful. These are the prayers of the pioneers who have passed this way before. These are the testimonies of those who have found themselves on a similar journey. These are the songs of the faithful who have entrusted us with their reflections on how to get from A to B.
The signs of the Psalms
If A is a place where I am feeling small and vulnerable, then Psalm 121 tells me about what someone else discovered when they were there.
It reminds me what I am most likely to overlook when my insecurities and my doubts rear up.
It assures me that other people have been there and though they might have felt it, they were not overwhelmed.
It redirects me to focus more on his faithfulness and less on my limitations.It reassures me that he who has begun a good work in me can be counted on to bring that work to completion.
It invites me to remember that this work involves a journey, that its comings and goings are intended to stimulate growth.
It strengthens me to know that the Lord watches over me as I participate in the journey, like a parent watching over their child. It challenges me to refuse to choose denial: the pretence that everything is rosy when it is not. B is a place where even though I know that I am small and vulnerable, I can still delight in the one who watches over me.
As a parent watching over my children, I will make sure that we will stop regularly at Psalm 121. We will look back over the terrain that we have covered as we reflect on where our family has come from, where we are now and where we are going.
For more articles from Growing Faith, subscribe to our monthly e-newsletter.
To hear about the latest books and resources from Youthworks Media, subscribe here.
Related Posts: