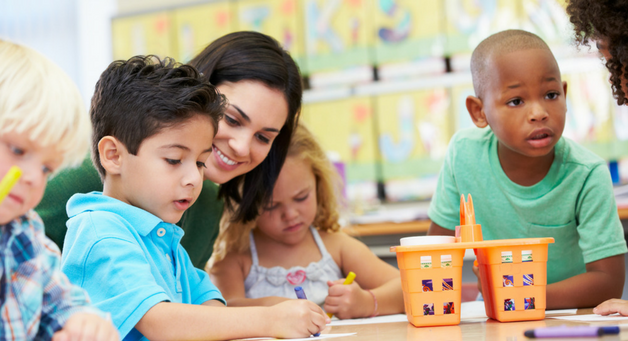 Seven ways to make your kid's leaders smile
Tamara Robson shares seven ways parents can encourage their children's ministry leaders
On Sunday morning at my church, there's always a flurry of movement between 9 and 10. It happens as the children's team arrive and begin to set up their areas and prepare and pray together. In the main hall the band are practicing for the service, and nearby you'll hear the familiar chatter of the 8am congregation catching up about life and faith and grandchildren. There's a lot happening in the life of our churches, and we often focus on that main hall and the significance of that on our spiritual growth - but the flurry to the side is full of people engaging in the hard slog of children's ministry week to week.
This team are largely unseen in our morning service. They're never up the front and they're packing up while morning tea is happening, but it's this very team that partner with parents in the important task of discipling little ones. It's worth taking some time to put a smile on their faces by showing some appreciation. Here are ten simple ways you can do that, starting this Sunday.

1. Pray for them
As you get your family ready to head to church, take a moment to pray for the children's ministry leaders who are about to take care of these little ones. Pray for the leaders and their preparation, and for their own growth as they learn from your children. The leaders may not hear those prayers but God does, and you bless the leaders by bringing their name before the God of all!

2. Include them in your coffee run
If you stop off at a cafe on the way to church, grab an extra coffee or two to share. This is a great way to say to your children's leaders, "I was thinking of you, and I care about you enough to supply a little boost of energy!"

3. Talk to them about the ministry
Chat to the children's leaders! Ask them about how the morning went and give them a chance to share about your kids. It offers an opportunity to develop your partnership so they know better how to love your children, and you know if there's anything to follow up.

4. Talk to them about life
Most of my children's ministry team are in high school. One of them just completed her HSC and showed up faithfully each week throughout her exams. Some leaders have been faithfully serving for years and are parents themselves. Building a relationship with children's leaders shows their value not just as a leader, but as a member of the church. They often feel like they do not belong to the congregation they serve - so show them that you value them beyond their ministry.

5. Write them a letter
Handwritten letters still bring smiles to people's faces! Sit down and spend some time thinking about how the hours spent within your church's children's ministry have helped your little ones grow, or ways you've seen them engaged with the Word as a result. Write it down and encourage leaders with that letter so they can see the ways God is using their faithful ministry. It is sometimes hard to see the fruit of children's ministry, so make it clear that they are making a difference.

6. Remember them at Easter and Christmas
If you're picking up presents for teachers, pick up something small for your children's leaders too. The moments I'm given a little Easter egg or Christmas card from church families warm my heart and reminds me that there's mutual love between us. It doesn't have to be fancy, just a small sign that you know and love them!

7. Build them up
It can be helpful to give constructive criticism to help build up people and ministries. Sometimes that might be directly to the teacher, at other times to the co-ordinator. Building these ministries up strengthens the church.

Bonus tip!
If you can do nothing else, say thank you! Make it part of your Sunday morning routine to say thank you to the children's ministry leaders for their service. It won't take very long, will bring a smile to their face, and shows that you care for them.
We're in this Christian life together and we need to take good care of one another. It isn't hard to do, but it takes deliberate consideration to make sure it happens with children's leaders who are often unseen in their service. They don't need glory for it, but a little bit of love goes a long way.
How are you going to make a children's ministry leader smile this week?
---
Tamara is a God delighting, tea filled, colour loving woman who dwells in the beautiful suburb of Earlwood. She spends her time serving as children's minister at Earlwood Anglican, enjoying life with her husband, The James, and pursuing a newfound love of sewing clothing in an effort to slow fashion down. Her greatest joys in life are Jesus' ridiculous love for His people, adventures with The James, time spent among God's people, and a few hours alone with tea and a book.
For more articles from Growing Faith, subscribe to our monthly e-newsletter.
To hear about the latest books and resources from Youthworks Media, subscribe here.
Related Posts: